FOR IMMEDIATE RELEASE | May 27, 2020                                                         
Contact: Jessica Ng | jng@mercuryllc.com
No Kid Hungry California Inducts 328 Californians into its League of Hunger Heroes
Marks "Thank A Hunger Hero Day" to Honor Those Fighting Hunger, Feeding Kids During the Coronavirus Pandemic
Pasadena, CA – In recognition of the countless everyday Californians who have stepped up to fight hunger and get nutritious meals to children and their families during the coronavirus pandemic, No Kid Hungry California today announced inducting 328 Californians into its League of Hunger Heroes. These individuals – school nutrition professionals, custodial staff, bus drivers, teachers, parents, and volunteers – were nominated by their peers based on their tireless work in communities around the state.
"We are so grateful to the California League of Hunger Heroes – people who have worked tirelessly, fiercely, and creatively to feed kids during the current public health crisis. Thank you for all you have done for the children and families in your community!" said No Kid Hungry California Director Kathy Saile. "These 328 Californians represent just a small fraction of the Hunger Heroes on the ground who are getting healthy and nutritious meals to students all across the state. So many more deserve recognition, and we are thrilled to honor these outstanding Californians for their contributions."
Individuals named to the League of Hunger Heroes include Californians representing 31 school districts:
Adelanto Elementary School District
Anaheim Union High School District
Capistrano Unified School District
Dinuba Unified School District
El Monte City School District
Fontana Unified School District
Garden Grove Unified School District
Golden Valley Unified School District
Goleta Union School District
Hesperia Unified School District
Jurupa Valley Unified School District
Lakeside Union School District
Los Angeles Unified School District
Monrovia Unified School District
Moreno Valley Unified School District
Morongo Unified School District
Mountain View School District
Natomas Unified School District
Norwalk-La Mirada Unified School District
Oakland Unified School District
Ontario-Montclair School District
Palmdale School District
Panama-Buena Vista Unified School District
Rialto Unified School District
Riverside Unified School District
Rosemead School District
San Francisco Unified School District
Santa Clarita Valley School Food Service Agency
STEM Prep Schools
Victor Valley Union High School District
Whittier Union High School District
Throughout the month of May, No Kid Hungry is saying a big "thank you" to everyone who has helped ensure kids are healthy and nourished during the crisis. The campaign has dedicated May 27 as #ThankAHungerHero Day, bringing together partners, champions and heroes from all across the country in a special day of thanks for their hard work. Since the pandemic started, the campaign has provided more than $2 million in emergency grants to nonprofit organizations and schools across the state that are finding new, innovative ways to provide free meals to children and families safely during this crisis. These grants are part of No Kid Hungry's ongoing work to make sure kids across the state have the food they need both during this crisis and in its aftermath.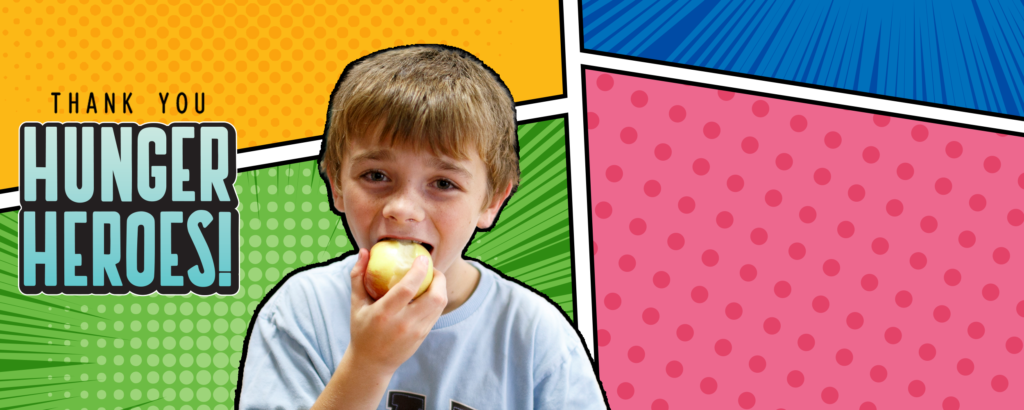 Let's applaud and welcome our First Class to the California League of Hunger Heroes!

Thank you for all you have done for children and families in your communities!
Adelanto Elementary School District
Julie Calderon, Child Nutrition Services Director
Anaheim Union High School District
Orlando Griego, Child Nutrition Services Director
Capistrano Unified School District
Shannon Illingworth, Nutrition Specialist
Diane Stagner, Operations Supervisor
Lisa Stilwagner, Operations Manager
Dinuba Unified School District
El Monte City School District
Amada Aispuro, Nutrition Service Assistant
Lupe Alvarado, Nutrition Service Assistant
Maria T Alvarez, Nutrition Service Assistant
Debra Amos, Child Nutrition Program Consultant
Dancia Ann Cruz, Nutrition Service Assistant
Mercedes Arambula, Warehouse Distribution Specialist
Freddy Arcila, Maintenance & Custodial Staff
Aguilar Arredondo, Nutrition Service Assistant
Ram Avalos, Maintenance & Custodial Staff
Margarita C Availa, Distribution Specialist
Daisy Becerril, Distribution Specialist
Celia D Berumen, Nutrition Service Assistant
Gloria Bonilla, Nutrition Service Assistant
Socorro G Briseno, Distribution Specialist
Christopher Bromstead, Warehouse & Distribution Specialist
Rosana Calvillo, Nutrition Service Assistant
Robert Camberos, Maintenance & Custodial Staff
Ruben Castro, Maintenance & Custodial Staff
Ruby Castro, Maintenance & Custodial Staff
Maria Celina Galindo Moreno, Nutrition Service Assistant
Frank Cerna, Maintenance & Custodial Staff
Rosa Maria Cervantes De Rosales, Nutrition Service Assistant
Isaac Contreras, Maintenance & Custodial Staff
Teresa A Cortes, Nutrition Service Assistant
Anabelle Cuevas, Nutrition Service Assistant
George Dale, Maintenance & Custodial Staff
Maria De Jesus Valdez, Distribution Specialist
Ana B De Leon De Escobedo, Nutrition Service Assistant
Josefina Delgadillo, Nutrition Service Assistant
Maria Delrefugio Gaona, Distribution Specialist
Frank Diaz, Maintenance & Custodial Staff
Elydia Dunning, Nutrition Service Assistant
Marie E Banuelos, Nutrition Service Assistant
Martha Elva Aponte, Nutrition Service Assistant
​Joseph Enriquez, Warehouse & Distribution Specialist
Liz Estavillo Valdez, Acting Assistant Director
Robert D Estrada, Maintenance & Custodial Staff
Theodore Evanilla, Maintenance & Custodial Staff
Maria Flora Soto, Nutrition Service Assistant​
Margarita Garcia, Nutrition Service Assistant​
Ofelia Garcia, Nutrition Service Assistant​
Gerardo Gonzalez, Warehouse & Distribution Specialist
Monica Greenlee, Distribution Specialist
Juana Guadalupe Pajar, Distribution Specialist
Yolanda Guardado, Nutrition Service Assistant
Danny Guitierrez, Maintenance & Custodial Staff
Rick Guitierrez, Maintenance & Custodial Staff
Benji Gutierrez, Maintenance & Custodial Staff
Clara Gutierrez, Nutrition Service Assistant
Guadalupe Huizar, Nutrition Service Assistant
Adriana Irene Martinez, Nutrition Service Assistant
Gicela Iribe Iribe, Distribution Specialist
Maria Ismelda Aponte, Nutrition Service Assistant
Veronica Johnson, Maintenance & Custodial Staff
Maria Juana, Nutrition Service Assistant
Magdalena A Kara, Nutrition Service Assistant
Travis Kerr, Maintenance & Custodial Staff
Anabel Ledesma Ulloa, Nutrition Service Assistant
Liliana C Lopez, Nutrition Service Assistant
Maria Lourdes Hernandez, Distribution Specialist
Stacy Mae Duarte, Nutrition Service Assistant
Sergio Martinez, Maintenance & Custodial Staff
Chad Matthew Rickman, Distribution Specialist
Joey Meza, Maintenance & Custodial Staff
Yesenia Montes, Distribution Specialist
Jose Navarro, Maintenance & Custodial Staff
Martha Olga Espinoza, Nutrition Service Assistant
Guillermo Paramo, Warehouse Distribution Specialist
George Pareda, Maintenance & Custodial Staff
Maria A Partida, Distribution Specialist
Martina Perez, Nutrition Service Assistant
Steve Perez, Maintenance & Custodial Staff
Jen Piatos, Senior Accounting Technician
Maria D Pulido De Tavarez, Distribution Specialist
Armando Ramirez, Maintenance & Custodial Staff
Asraseli Ramirez, Distribution Specialist
Victor Rodriguez, Maintenance & Custodial Staff
George Romero, Maintenance & Custodial Staff
Alma Rosa Gasca, Distribution Specialist
Maria Rosales Gamboa, Nutrition Service Assistant
Laura Ruiz, Administrative Assistant
Johnny San Juan, Maintenance & Custodial Staff
Anthony Sanchez, Maintenance & Custodial Staff
Leticia Sofia Sanchez, Nutrition Service Assistant
Justina Soria, Nutrition Service Assistant
Jimmy Tessier, Maintenance & Custodial Staff
Gerardo Torres, Maintenance & Custodial Staff
Dolores Varela, Nutrition Service Assistant
Arcelia Velasquez, Nutrition Service Assistant
Francisco Vergara, Maintenance & Custodial Staff
Sandra Veronica Gaxiola, Nutrition Service Assistant
Jonathan Villacis, Warehouse Distribution Specialist
Aracely Villanueva, Nutrition Service Assistant
Marlen Villegas De Perez, Nutrition Service Assistant
Janette Watts, Distribution Specialist
Ronn Wilson, Maintenance & Custodial Staff
Erin Zambrano, Maintenance & Custodial Staff
Hector Zazzueta, Maintenance & Custodial Staff
Fontana Unified School District
Mary Stevens, Bus Driver
Manuel Cardona, Custodian at Palmetto Elementary
Garden Grove Unified School District
Agnes Lally, Food Services Director
Golden Valley Unified School District
James Howard, Food Services Manager
Goleta Union School District
Hesperia Unified School District
Heather Davis, Kitchen Supervisor
Jurupa Valley Unified School District
Lakeside Union School District
James Dumars, Executive Chef
Los Angeles Unified School District
Shannon Delacruz, Food Services Manager at Sylmar Charter HS
Elizabeth Felix, Food Services Manager at King MS
Evelen Gurguis, Food Services Manager at Marina Del Rey MS
Noemi Ylagan, Food Services Manager at Sotomayor HS
Monrovia Unified School District
Alicia Escobar, Production Kitchen Manager at Monrovia HS
Moreno Valley Unified School District
Carla Lyder, Nutrition Services Director
Morongo Unified School District
Fabian Bazarewski, Bus Driver
Sean Connor, Nutritional Services Assistant at Twentynine Palms HS
Matthew Delgado, Nutritional Service Lead at Joshua Tree Elementary
Agota McKenna, Instructional Assistant at Onaga Elementary
Mike Morgan, District Carpenter
Megan Pfau, Principal at Twentynine Palms Elementary
Mike Ruggiero, Principal at Twentynine Palms HS
Danny Strempke, Warehouse Lead
Nico Villamero, Custodian at Onaga Elementary
Amanda Warner, Site Supervisor at Condor Elementary
Judith Whitney, Manager at Twentynine Palms Elementary
Mountain View School District
Kelley Reyes, Dean of Students at Grace Yokley MS
Natomas Unified School District
Trini Valencia, Food Service Assistant
Norwalk-La Mirada Unified School District
Chris Brown, Warehouse Lead
Oakland Unified School District
Reyna Melero, Food Service Assistant
Ontario-Montclair School District
Maria Adame, Nutrition Service Staff
Jessica Agulair, Nutrition Service Staff
Brenda Alatorre, Nutrition Service Staff
Erika Alonso, Nutrition Service Staff
Lena Ament, Central Kitchen
Elsa Aparicio, Nutrition Service Staff
Alma Arradondo, Nutrition Service Lead
Zorika Arriaga, Nutrition Service Staff
Kristine Barboza, Nutrition Service Staff
Amanda Burdette, Nutrition Service Staff
Maria Carlin, Nutrition Service Staff
Manuela Casas, Nutrition Service Lead
Nanette Castello, Nutrition Service Lead
Susana Castellon, Nutrition Service Staff
Terry Ceballos, Nutrition Center
Elizabeth Chavez, Nutrition Service Staff
Yasmin Chavez, Nutrition Service Staff
Yolanda Chavez, Nutrition Service Staff
Anita Davis, Nutrition Service Staff
Tammy Delayo, Nutrition Service Staff
Barbara Delgado, Nutrition Service Staff
Victoria Dewitt, Nutrition Service Staff
Maria Dominguez, Nutrition Service Lead
Guadalupe Espinosa, Nutrition Service Staff
Amatul Farooqi, Nutrition Service Staff
Ruben Fernandez, Nutrition Service Lead
Isidra Flores, Nutrition Service Staff
Ivan Flores, Warehouse Staff
Veronica Flores, Nutrition Service Staff
Guadalupe Galdalmez, Nutrition Service Lead
Priscilla Galdamez, Nutrition Service Staff
Maria Gomez, Nutrition Service Staff
Adaleida Gonzalez, Nutrition Service Staff
Anthony Gonzalez, Warehouse Staff
Yvette Gonzalez, Nutrition Service Staff
Vanessa Govea, Nutrition Service Staff
Maria Gutierrez, Nutrition Service Staff
Tonia Howard, , Nutrition Service Lead
Rosie Inigues, Nutrition Service Lead
Minnie Irvin, Nutrition Service Staff
Sonia James, Nutrition Service Staff
Ranjit Kaur, Nutrition Service Staff
Tommy Keith, Nutrition Service Staff
Elizabeth Larsen, Nutrition Service Staff
Alma Lopez, Nutrition Service Staff
Sandra Machuca, Nutrition Service Staff
Maria Manciallas, Nutrition Service Staff
Alicia Marin, Nutrition Service Staff
Lidia Marin, Nutrition Service Staff
Amy Martinez, Nutrition Service Staff
Elizabeth Martinez, Nutrition Service Staff
Guadalupe Martinez, Nutrition Service Staff
Angelica McConnell, Nutrition Service Staff
Barbara McGee, Nutrition Service Staff
Elba Medina, Nutrition Service Staff
Delfina Mercado, Nutrition Service Staff
Isela Mercado, Nutrition Service Staff
Maria Montanez, Nutrition Service Staff
Patricia Montecino, Nutrition Service Staff
Lisa Moreno, Nutrition Service Staff
Barbara O'Cleary, Nutrition Service Staff
Delelna O'Cleary Pitts, Nutrition Service Staff
Debra Olmos, Nutrition Service Staff
Michelle Ortega, Nutrition Service Lead
Bridgette Paden, Nutrition Service Lead
Carmen Palacios, Nutrition Service Staff
Ruth Parkes, Nutrition Service Lead
Leora Pope, Nutrition Service Staff
Maria Rachford, Nutrition Service Staff
Rebekah Ramirez, Nutrition Service Staff
Maria Ramos, Nutrition Service Lead
Maria Reyes, Nutrition Service Staff
Josie Rios, Nutrition Service Staff
Susana Rivera, Nutrition Service Staff
Monica Rodriguez, Nutrition Service Lead
Maria Rojas, Nutrition Service Staff
Yesenia Roman, Nutrition Service Staff
Ana Romero, Nutrition Service Staff
Adela Ruano, Nutrition Service Staff
Armida Ruela, Nutrition Service Staff
Raecine Sahabdool, Nutrition Service Lead
Frank Salazar, Warehouse Staff
Danyelle Sandoval, Nutrition Service Staff
Rosalina Santana, Nutrition Service Staff
Maria Sepulveda, Nutrition Service Lead
Darlene Servin, Nutrition Service Staff
Ramanjit Sibia, Nutritionist
Flor Silvestre, Nutrition Service Staff
Annette Sostre, Nutrition Service Lead
Lisa Stadler, Nutrition Service Staff
Tami Stepheson, Nutrition Service Staff
Hilda Taffolla, Nutrition Service Staff
Elizabeth Talmadge, Nutrition Service Staff
Rekha Tiwari, Nutrition Service Staff
Maria Torres, Nutrition Service Lead
Josie Ureno, Nutrition Service Staff
Lorena Valdovinos, Nutrition Service Staff
Alma Valencia, Nutrition Service Lead
Maria Vazquez, Nutrition Service Staff
Vanessa Vazquez, Nutrition Service Staff
Maria Velasquez, Nutrition Service Staff
Margarita Vera, Nutrition Service Staff
Belle Vu, Nutrition Service Staff
Ashley Wallen, Nutrition Service Lead
Caroline Williams, Nutrition Service Staff
Nicole Zertuche, Nutrition Service Staff
Palmdale School District
Rocio Nelson, Child Nutrition Manager at Tamarisk Elementary
Panama-Buena Vista Unified School District
Dave Ueberroth, 2nd Grade Teacher at Miller Elementary
Rialto Unified School District
Fausat Rahman-Davies, Child Nutrition Lead Agent
Riverside Unified School District
Adleit Asi, Nutrition Services Director
Carolina Perez, Systems Specialist
Rosemead School District
Susana Alberto, Supper Program Assistant
Christina Cam, Supper Program Assistant
Soo Fong Yee, Supper Program Assistant
San Francisco Unified School District
Jiwon Jun, Breakfast Expansion Consultant
Ivan Rodriguez, Project Manager
Simone Saldanha, Student Engagement Coordinator
Hannah Smith, Wellness Policy Director
Santa Clarita Valley School Food Service Agency
Robert Lewis, CEO of School Day Cafe
STEM Prep Schools
Maria Sanchez, After School Coordinator at STEM Prep Elementary
Victor Valley Union High School District
Nora Carrillo, Bus Driver
Rita Arias, Food Service Worker at Adelanto HS
Cumore Denby, Food Service Worker at Adelanto HS
Stacy Doerksen, Operator at Adelanto HS
Dymphna Estrada, Food Service Worker at Adelanto HS
Pam Fernandez, Food Service Worker II at Adelanto HS
Catrina Moreno, Food Service Worker at Adelanto HS
Meybelin Ortiz-Carranza, Food Service Worker at Adelanto HS
Joyce Potter, Food Service Worker at Adelanto HS
Lori Ramos, Food Service Worker at Adelanto HS
Martha Salgado, Food Service Worker at Adelanto HS
Maria Selva, Food Service Worker at Adelanto HS
Laurina Velasco, Food Service Worker at Adelanto HS
Julio Aldana, Food Service Worker at Cobalt Institute of Math & Science
Laura Cisneros, Food Service Worker at Cobalt Institute of Math & Science
Rosalva Cisneros, Food Service Worker at Cobalt Institute of Math & Science
Erica Deharo, Food Service Worker II at Cobalt Institute of Math & Science
Diane Fernandez, Operator at Cobalt Institute of Math & Science
Onna Garven, Food Service Worker at Cobalt Institute of Math & Science
Marceline Oslen, Food Service Worker at Cobalt Institute of Math & Science
Nayeli Osuna, Food Service Worker at Cobalt Institute of Math & Science
Julie Velasquez, Food Service Worker at Cobalt Institute of Math & Science
Loretta Burley, Food Service Worker at Hook Junior HS
Dolores Corona-Tapia, Food Service Worker at Hook Junior HS
Stella Corral, Operator at Hook Junior HS
Sophia Dominguez, Food Service Worker at Hook Junior HS
Kenneth Malwah, Food Service Worker at Hook Junior HS
Maria Meza De Galvan, Food Service Worker at Hook Junior HS
Patricia Moreno, Food Service Worker at Hook Junior HS
Elodia Nunez, Food Service Worker at Hook Junior HS
Becky Angel, Food Service Worker at Lakeside Leadership Academy
Denice Balboa-Banks, Food Service Worker at Lakeside Leadership Academy
Leonor Cansino, Food Service Worker at Lakeside Leadership Academy
Cristini Clark, Food Service Worker at Lakeside Leadership Academy
Sophie DerGalstanian, Food Service Worker II at Lakeside Leadership Academy
Linda Walker, Operator at Lakeside Leadership Academy
Adelina Allen, Food Service Worker at Silverado HS
Nora Contreas, Food Service Worker at Silverado HS
Debora Cruz, Food Service Worker at Silverado HS
Elizabeth DeVicente, Food Service Worker at Silverado HS
Teresa Doerksen, Food Service Worker II at Silverado HS
Maria Garcia, Food Service Worker at Silverado HS
Anita Hay, Food Service Worker II at Silverado HS
Brianna Herndon, Operator at Silverado HS
Johnnie Holloway, Food Service Worker at Silverado HS
Raenette Lopez, Food Service Worker at Silverado HS
Silvia Lopez, Food Service Worker at Silverado HS
Santa Rodriguez, Food Service Worker at Silverado HS
Esther Santiago, Food Service Worker at Silverado HS
Cynthia Scott, Food Service Worker at Silverado HS
Hazel Tafoya, Food Service Worker at Silverado HS
Marta Zamudio, Food Service Worker at Silverado HS
Norma Bernal, Food Service Worker at University Preparatory
Aja Jarvis, Food Service Worker II at University Preparatory
Constance Knoll Olson, Operator at University Preparatory
Sherika Modest Green, Food Service Worker at University Preparatory
Dorene Navarro, Food Service Worker at University Preparatory
Tina Parma, Food Service Worker at University Preparatory
Miriam Ruiz, Food Service Worker at University Preparatory
Marisel Salazar, Food Service Worker at University Preparatory
Rebeca Servin, Food Service Worker at University Preparatory
Lakeshia Anderson, Food Service Worker at Victor Valley HS
Marlene Benavidez, Food Service Worker at Victor Valley HS
Jana Cantano, Food Service Worker at Victor Valley HS
Evelyn Ceren, Food Service Worker at Victor Valley HS
Angelica Deavila, Food Service Worker at Victor Valley HS
Nicole Lacey, Food Service Worker at Victor Valley HS
Martha Lopez, Food Service Worker at Victor Valley HS
Connie Nordin, Food Service Worker at Victor Valley HS
Doris Paredes, Food Service Worker at Victor Valley HS
Irene Pettie, Food Service Worker II at Victor Valley HS
Socorro Portillo, Food Service Worker at Victor Valley HS
Gina Taug, Food Service Worker at Victor Valley HS
Jennifer Wagner, Operator at Victor Valley HS
Whittier Union High School District
Elizabeth Brown-Smith, Child Nutrition Services Director
###
About No Kid Hungry
No child should go hungry in America. But 1 in 4 kids could face hunger due to the coronavirus pandemic. No Kid Hungry is ending childhood hunger through effective programs that provide kids with the food they need. This is a problem we know how to solve. No Kid Hungry is a campaign of Share Our Strength, an organization working to end hunger and poverty. Join us at NoKidHungry.org