Thank you for joining us!
You can rewatch the webinar on Youtube! Watch below or follow the link. 
Click here to view the slide deck.
Webinar Description
In light of the COVID-19 pandemic, school districts continue to be tasked with overcoming unprecedented challenges in the 2020-2021 school year. The emergency need for healthy food access remains at an alarmingly high rate, as countless families continue to look to schools for a safe, reliable source of nutritious food for their children. Furthermore, some schools have resumed in-person instruction and Food Nutrition Service Directors are now serving thousands of students while minimizing meal delivery contact among students and staff members.
Through policy, participation and preparation, school districts across Southern California are working to promote and conduct outreach for P-EBT 2.0, increase supper participation, address staffing challenges, and meet the demands of a hybrid learning shift
In this third webinar, No Kid Hungry California, in partnership with four Southern California County Public Health Collaboratives, will present a variety of solutions for continuing to feed kids as we start the New Year. You will hear from Nutrition Directors and leaders from Los Angeles, Riverside, Orange, and San Bernardino County. Community partners and child nutrition providers will learn about best practices, increasing meal participation, re-entry models, operating as a school nutrition hub, and more.
Speaker
Betty Crocker, MPH, RDN, Director, Child Nutrition Services
Redlands Unified School District
Andrea Cuellar, MPP, Program Manager
No Kid Hungry California
Angeles Nelson, Policy Associate
Nourish California
Daryl Hickey, Director, Food & Nutrition Services
Pomona Unified School District
Kristin Hilleman, SNS, Director, Food & Nutrition Services
Capistrano Unified School District
Eric Holliday, Director, Child Nutrition Services
Alvord Unified School District
Azucena Ortega, Programs Supervisor
Feeding American Riverside | San Bernardino
Matt Upton, Industry Coach
Speaking of Success
Clarification on CACFP Rosters & Accountability
The USDA granted the CDE the ability to place a temporary moratorium on new CACFP sponsors as of January 1, 2021. Existing sponsors that want to add new sites can still do that and school food authorities (SFAs) can add At-Risk to their programs, but otherwise CDE are not processing new sponsors at this time. Sponsors that are affected by the hiatus to look at becoming a site under an existing sponsor (CDE can help to identify these for them); this way they can still participate in the program and learn about proper administration at the same time. If you have any questions rosters or accountability on CACFP, please reach out Sean Hardin at SHardin@cde.ca.gov 
Resources from our speakers:
From Angeles Nelson, Nourish California
CACFP Emergency Operating Costs During COVID-19 Webinar
Tuesday, March 2, 2021
2–3:00 p.m.

On Tuesday, March 2, 2021, at 2 p.m., the Nutrition Services Division (NSD) invites you to attend a listening session of the Child and Adult Care Food Program (CACFP) Emergency Operational Costs Reimbursement Program. This federally-funded reimbursement program is intended to provide additional funds to CACFP Operators whose meal reimbursements were reduced during the periods of March 2020ꟷJune 2020 as a result of the Novel Coronavirus (COVID-19).
 
The NSD staff will provide an overview of the reimbursement program, the process for determining program eligibility and the calculation of operational losses, which will then be followed by a question and answer period.
 
Panelists will include:
Kim Frinzell, Director of Nutrition Services, California Department of Education (CDE)
Jackie Richardson, Nutrition Education Administrator, CDE
Elyse Homel Vitale, Executive Director, Child Care Food Program (CCFP) Roundtable 
This webinar is free to attend. Please register in advance for this webinar at
https://us02web.zoom.us/webinar/register/WN_Y6kcjG7HTQig7OsdM_WFCg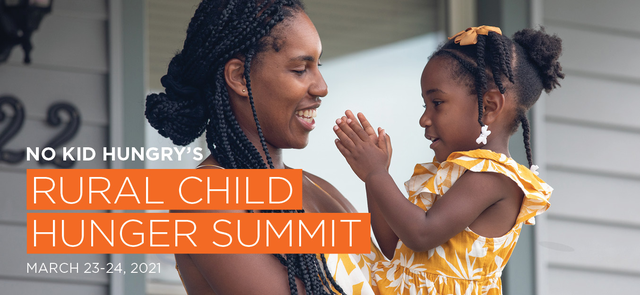 SAVE THE DATE for Tuesday & Wednesday, March 23-24, 2021
No Kid Hungry's third annual Rural Child Hunger Summit will occur as a virtual event, held over Zoom for two days on March 23-24, 2021. The goals of the 2021 Rural Child Hunger Summit are to highlight the disparities driving child hunger in rural communities, identify promising practices and policy levers that amplify the impact of existing nutrition assistance programs and/or reduce the incidence of rural child hunger, and celebrate innovations that are community-based, user-centered and evidence-informed  
Stay tuned for future updates on how to register for this free event. In the meantime, feel free to review program agendas and collateral from previous Summits, or visit our Rural Communities landing page with information and resources for school districts and community nonprofits.
###
About No Kid Hungry
No child should go hungry in America. But 1 in 4 kids could face hunger due to the coronavirus pandemic. No Kid Hungry is ending childhood hunger through effective programs that provide kids with the food they need. This is a problem we know how to solve. No Kid Hungry is a campaign of Share Our Strength, an organization working to end hunger and poverty. Join us at NoKidHungry.org