No Kid Hungry Gives $250,000 Grant to Help NYC Public Schools Reach More Students with Healthy Food
NEW YORK—No Kid Hungry New York today announced a $250,000 grant to help New York City public schools with equipment and marketing needs to reach more kids with nutritious meals. The grant to the Fund for Public Schools – the NYC Department of Education's nonprofit partner facilitating private investments to support emerging needs and innovative programs – will expand the City's robust meal program by adding dozens of grab & go meal kiosks at neighborhood schools, where students can pick up free meals 5 days a week.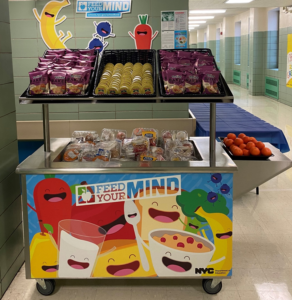 The new, contactless kiosks will allow schools to safely reach more families with meals at distribution hubs around the city, even as school buildings reopen to students. To boost awareness of the sites, the grant will also fund large banners in English, Spanish and simplified Chinese to promote the pick-up locations.
Today as many as 1 in 3 kids in New York City may be facing hunger. These meals are critical to helping parents make ends meet and ensuring students have the nutrition they need to learn in these challenging times.
"It's been nearly a year since the pandemic upended daily life in New York City, putting many more children at risk of hunger. Almost overnight, the NYC Department of Education stepped up to serve meals to New Yorkers citywide. We're incredibly proud to support DOE operations as they expand to meet a growing need in our community that is likely to long outlive this virus," said No Kid Hungry New York Director Rachel Sabella.
"New York City's recovery runs through our public schools and our partners are playing a vital role. We're grateful to No Kid Hungry for furthering the NYC DOE's efforts to fight hunger and promote healthy eating, ultimately safeguarding the stability and future success of our most vulnerable students and families." said Julie L. Shapiro, Chief Executive Officer of the Fund for Public Schools.
"We always appreciate the generous support from No Kid Hungry," said Chris Tricarico, Senior Executive Director of the Office of Food and Nutrition Services, NYC Department of Education. "This grant helps us provide ongoing service to our communities during a time of great need and limited resources."
Since the start of the pandemic, No Kid Hungry has awarded $2.7 million to support emergency food distribution across New York, helping provide more than 21 million meals to New Yorkers in need.
Any New Yorker, whether they have school-age children or not, can pick up a day's worth of free grab & go meals for themselves and their household. No one is ever turned away. Even as the latest wave of the pandemic recedes, the economic toll of the past year continues to mount. You can find the grab & go meal hub nearest you by texting NYC FOOD or NYC COMIDA to 877-877.
###
About No Kid Hungry
No child should go hungry in America. But in the wake of the coronavirus pandemic, 1 in 5 kids in New York could face hunger. No Kid Hungry New York is working to end childhood hunger by helping launch and improve programs that give all kids the healthy food they need to thrive. This is a problem we know how to solve. No Kid Hungry New York is a campaign of Share Our Strength, an organization committed to ending hunger and poverty. Join us at NoKidHungry.org