Sarah Steely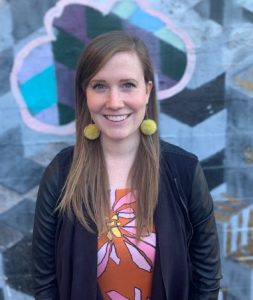 Sarah Steely is the Associate Director for No Kid Hungry Virginia. In this role, Sarah leads team communications and develops data-informed engagement strategies to increase awareness of and access to the USDA school nutrition programs, including the School Breakfast Program, At-Risk Afterschool Child and Adult Care Food Program (CACFP), Summer Meals Program, and Community Eligibility Provision (CEP). Sarah previously served as an analyst for Marstel-Day, a Virginia-based natural resource and environmental consulting firm, where she provided land use planning and stakeholder analysis services to clients across the country. Sarah graduated from the University of Virginia and currently lives in Charlottesville.
Catherine Spacciapoli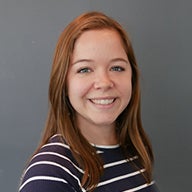 Catherine Spacciapoli is a Program Manager with No Kid Hungry Virginia. She works alongside school divisions and partner organizations to increase access to and awareness of childhood nutrition programs in Virginia. Catherine manages the Breakfast after the Bell, Afterschool Meals, and Summer Meals grants for the state with the goal of supporting schools and sponsors in expanding their programs while also leading the Virginia Breakfast Challenge, a state-wide initiative to increase participation in and excitement for school breakfast. Prior to joining the No Kid Hungry Virginia team, Catherine worked with the Partnership for Public Service leading logistics and evaluation for leadership development programs geared to federal managers. She is a graduate of the University of Richmond where she studied Latin American Studies. Catherine is a member of the local Autism Speaks Walk committee in Richmond and spends her free time outdoors with her retired rescue greyhound, Carlos Santana.
Nelly Evans
Nelly Evans is the Northern Virginia Program Manager for No Kid Hungry Virginia. With over over five years of experience in education, agriculture, and public health, she has worked in schools in Austria, Portland, Oregon and Baltimore, Maryland. Nelly is eager to bring those lessons learned to school divisions across the Commonwealth to help schools improve and expand their breakfast, afterschool, and summer meals programs. Nelly received her master's degree in Public Policy, as well as a Certificate in Food Systems, Sustainability & Public Health from The Johns Hopkins Bloomberg School of Public Health. Nelly is the Youth Programs Coordinator for her local Rotary Club and is an elementary-level coach for Girls on the Run. As a native Pacific Northwesterner, Nelly loves backpacking, the mountains, and being outside (rain or shine!).