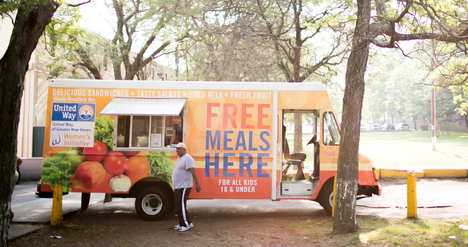 For kids who receive school meals, the summer months can be the hungriest time of year. While summer meal programs were designed to help connect kids with the nutrition they need when schools are closed, they've historically reached only a fraction of eligible children. 
But soon that will change. At the end of 2022, Congress approved a significant investment in how we reach kids with the food they need in the summer – an incredible step forward in ending childhood hunger in the U.S and one the most consequential changes to federal nutrition programs in years. These changes will soon go into effect and No Kid Hungry is working hard to ensure eligible schools and communities have the information they need to participate and to help families learn about new summer meal options and additional nutrition assistance available for their kids. 
Some of these changes include: 
Grocery benefits for families to buy food in the summer through Summer EBT

Non-congregate meal options for kids who could benefit from summer meals but can't access traditional sites
This month, we want to take the opportunity to illustrate why the need for these new programs is so great, particularly in Kentucky.
Summer EBT 
While much of our immediate focus is on non-congregate meal implementation, we also want to highlight the substantial impact that the expansion of Summer EBT, or Summer Electronic Benefits Transfer, will have on children and families. This legislation established Summer EBT as a permanent, nationwide program that provides families with benefits to buy groceries in the summer months when school meals are not widely available. 
The program was first piloted in 2010 and has been proven

to

decrease the number of kids who didn't always have enough to eat by one-third

.

A similar program operated during the pandemic known as Pandemic Electronic Benefits Transfer, or Pandemic EBT, provided

over $64 billion benefit dollars to families. 

Starting summer of 2024, families whose children qualify for free and reduced-price meals can receive $40 a month on an electronic benefits transfer card that they can use to purchase groceries for their kids during summer months. This benefit will adjust to inflation.
While Summer EBT will not go into effect until 2024, Summer Pandemic EBT (P-EBT) will be available in Kentucky this summer and provides $120 per child during the summer. School-aged children that receive free or reduced price meals or SNAP should receive these benefits automatically. Make sure families know to submit a school meal application to qualify for Summer P-EBT.  
One of the best ways to feed kids is to ensure their families have the resources they need to buy food. Summer EBT is a big deal for working families, helping to make up for the meals that kids might miss during summer break.
Non-Congregate Meals in Rural Areas
First, what are non-congregate meals?
Non-congregate meal service refers to a meal service model that allows meals to be consumed off-site. Typically, sites that operate non-congregate models operate via grab and go or in some cases, home delivery.
Historically, the summer meals programs are often one of the most under-utilized child nutrition programs in the country. In fact, 6 out of 7 kids who may have needed summer meals pre-pandemic were missing out. This is primarily due to major barriers that stand in the way of participation:
Kids are required to eat their meals on site, but with many parents at work and school buses out of service for the summer, transportation can be impossible;

In rural areas and the suburbs, kids can live miles away from meal sites;

Summer storms and extreme heat often close sites.
During the pandemic, participation soared to levels never before reached, jumping 123% from the previous summer. This was largely due to the widespread waiver authority that USDA took to allow meal service flexibilities, such as non-congregate meals and multi-day distribution. 
Unfortunately, last summer, without these widespread flexibilities, the number of summer meals served returned back to pre-pandemic levels.
In Kentucky, the data further illustrates how great the need for non-congregate meals is. Between 2021 and 2022, when most program operators stopped serving meals non-congregately, we saw a 59% decrease in the number of meals served.
This year, non-congregate meal options are available in rural-designated areas if the state agency opts in to participate. This change offers a transformative opportunity to address transportation challenges facing rural communities head on.
In Kentucky, the Department of Education has opted in to participate in this program and submitted their plan to USDA for approval for this summer!
No Kid Hungry Kentucky is thrilled that Kentucky kids will have access to non-congregate meals in rural communities in addition to traditional summer meal operations this summer. As school districts and community sponsors prepare to serve their communities, No Kid Hungry is here to support your efforts in reaching as many children as possible.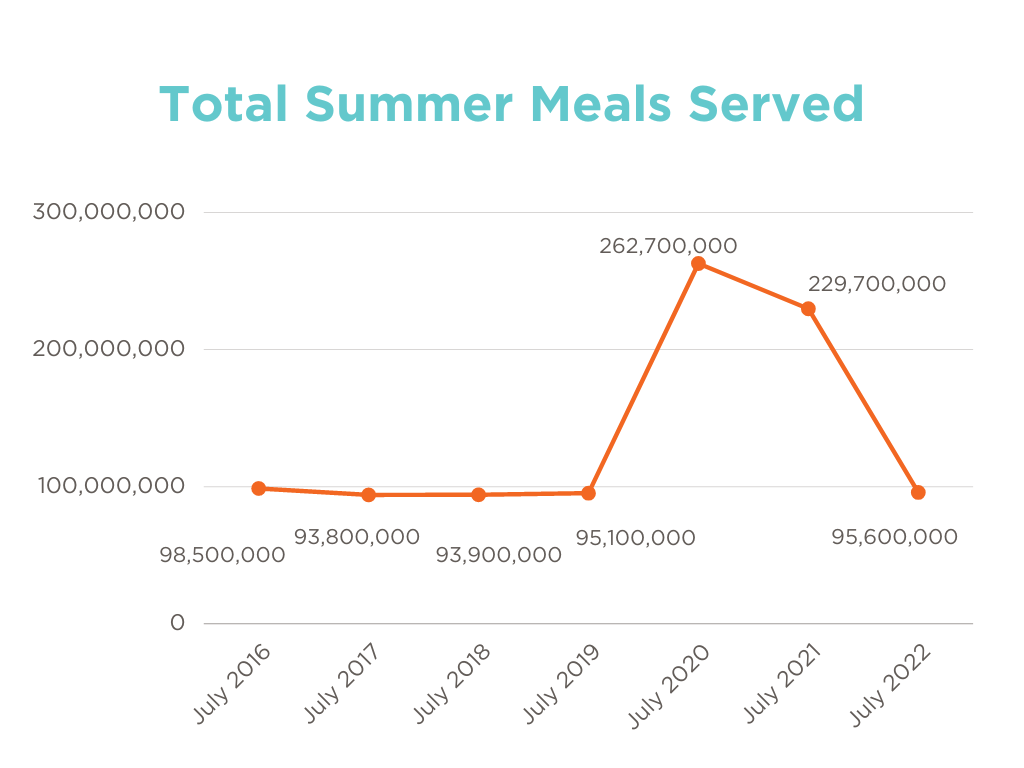 Webinars
Resources
As we look to next summer, USDA will be seeking immediate feedback as they begin the process for writing the 'final rule' for non-congregate meals and Summer EBT which will be the official guidance for state agencies and program operators as they seek to operate the program year after year. Stay tuned for additional opportunities to provide feedback!
The pandemic highlighted the lasting impact that non-congregate meals and Summer EBT can have in communities across the country. While No Kid Hungry is excited about the opportunity this summer presents in operating non-congregate programs in rural communities, we also recognize that there is still work to be done to ensure this program is reaching as many eligible children as possible so that every child has access to 3 meals a day, 365 days a year.