Celebrating Huge Successes in St Helena Parish
No Kid Hungry Louisiana Senior Program Manager, Ariyon C. Bryant, recently visited Greensburg, LA where she sat down with Mrs. Tracy Womack to discuss the successes and challenges of operating St Helena Parish's Child Nutrition Program, and how No Kid Hungry Louisiana can help!
---
After serving as the Director of Child Nutrition for several years, Mrs. Womack was recently promoted to the Director of Nutrition and Wellness where—with a holistic focus—she oversees various areas of students' health and wellbeing, as well as their nutritional needs. Mrs. Womack, along with her amazing and talented team has a three-pronged goal of, 1) preparing and serving quality meals and foods; 2) ensuring food safety; and 3) helping students develop healthful food habits. These goals are achieved through a number of traditional and alternative meal service models such as Grab and Go Breakfast and Breakfast in the Classroom, a program that was welcomed with overwhelming enthusiasm by district Superintendent, Dr. Kellie Joseph, and has soared to new heights in the district's elementary and middle schools. As breakfast is the most important meal of the day, the program guarantees that students receive the nutritious breakfast needed to think clearly, concentrate on learning, and perform better in class—which can be linked to the district's $3.5 million in scholarships earned by the class of 2022.
Mrs. Womack also shared more context about the Breakfast in the Classroom program, which was initiated with the help of a three year grant. She even stewarded a wonderful informative video featuring staff throughout St. Helena District and how the program operates. View the video here!
Additionally, to emphasis the nutrition department's holistic approach to health, St Helena College and Career Academy recently underwent aesthetic renovations to provide a more colorful, inviting, and student-centered environment for kids to dine. A Baton Rouge artist was commissioned to create murals of school spirit and traditional seating areas were replaced by cafe style, free-flowing arrangements.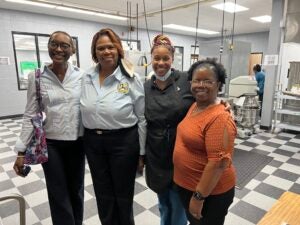 Mrs. Womack cites staffing and food supply chain shortages as two of the district's greatest challenges. However, things are improving in that the district has welcomed a new Field Manager, Ms. Leona Green (pictured to the right in orange), to continue the momentum set forth, and to innovate practices that will allow for students to receive the meals needed to learn and thrive. As a longtime partner, No Kid Hungry Louisiana looks forward to continuing to support St Helena's Food Service Department through future granting opportunities and targeted technical assistance.
---
Did you know St. Helena was a 2019 USDA Turnip the Beet Award Winner? Read the blog from LA Fit Kids here!