The Community Eligibility Provision (CEP)
CEP is a school meal funding option that allows  schools to offer free breakfast and lunch to all students – essentially becoming Hunger-Free Schools.
More than 106,000 students in Maryland attend one of  the following 242 Hunger-Free Schools: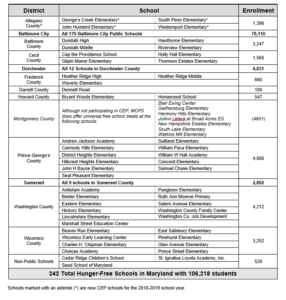 The following Maryland schools are among those eligible to participate in the 2019-2020 school year. For a complete list of eligible and near-eligible schools, click here.