Maryland is Leading the Way Towards Ending Summer Hunger for Children
When schools close during the summer months and winter break, free school meals often disappear and many low-income families struggle to put food on the table due to higher grocery bills and additional childcare costs. The federal summer meals program aims to address this need, but transportation barriers make it hard for many kids to participate and t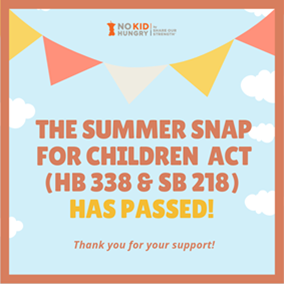 herefore, the program only reaches about 22% of the children who may need it.
Summer SNAP for Children will reduce poverty and hunger for vulnerable children in Maryland by providing an additional $30 per child, per summer month, in food benefits directly onto SNAP (previously known as food stamps) electronic benefits cards, and an additional $10 per child during the winter break.
Based on the successful national pilot program (SETBC), Maryland is leading the country with this new solution to ensure that children have access to the nutrition they need when school is out of session during the summer and winter vacations.
No Kid Hungry Maryland advocated for this bill in the state legislature along with our partners at the Critical Issues Forum and the Family League of Baltimore and with the support of lead sponsors Senator McCray and Delegate Queen.

Maryland counties can apply to participate by December 1 to receive a portion of the $200,000 available in state funding. A county match is required at the same ratio as the school construction funding formula.
Summer SNAP for Children benefits begin on June 1, 2020 and will be added to the household's EBT cards 15 days after the federally funded SNAP benefits are issued in the months of June, July, and August and 7 days after the December SNAP benefit is issued.
Due to the limited state funding allocated to this program, it is unlikely that all eligible children in a county will be able to receive the supplemental benefit. Therefore, counties will determine the specific children who will receive the supplement. Examples of how to choose children for inclusion in the program include conducting a random lottery, or identifying those children living: in a rural zip code, in areas that lack summer meal sites, in the school attendance area of a high-poverty school and/or a schools with CEP, or in families with the lowest assets (a strategy to reduce racial wealth gap).
Towson University's Economic Analysis of Summer SNAP for Children
For additional information, please contact Tam Lynne Kelley, Senior Manager at No Kid Hungry Maryland via email tkelley@strength.org or phone (410) 753-4304.