At Shelby Middle School, Breakfast is a Community Effort 
In Western Michigan, Shelby Middle School was one of the top schools in Michigan for increasing breakfast participation. Shelby Public Schools Food Service Director Mary Rose Vanas was recently interviewed by No Kid Hungry Michigan's Mindy Grant to learn more about how they accomplished this incredible feat. 
In 2019, Shelby Middle School was serving an average of 247 breakfast meals a day. In 2022, that average skyrocketed to 441 breakfast meals per day. This was accomplished through two ways; one was through the use of non-congregate feeding sites, and the other was by utilizing Breakfast in the Classroom (BIC). 
At the height of the pandemic, Vanas and the district were able to take advantage of non-congregate feeding waivers, which allowed for packaging multiple meals at a time to any student who wanted to take home meals. Vanas said, "Mainly one of the reasons for such a dramatic increase [in participation] is that the middle school site is a non-congregate and open site… We give them five days worth of breakfast [at a time]."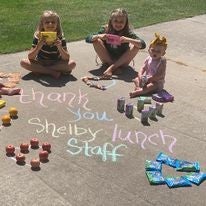 Folks from all walks of life in the community came and helped volunteer their time to organize distribution, including the former principal of the high school, a local basketball coach, and pastor, among other community members. Vanas summarized, "There were very dedicated family groups that picked up for their kids… whether they were homeschooled or in districts where food isn't easily accessible."
Once students were fully back in school, Vanas noted that Breakfast in the Classroom – which the middle school began roughly seven years ago – played a big role in increasing breakfast participation. "We encouraged our teachers and the adults in this school to eat with the students in the classroom so that the students would then follow on and eat," said Vanas. She continued, "It's sometimes difficult to get middle schoolers to eat because it's not a 'cool' thing to do…So the teachers are there actually physically sitting and eating with them. There was a great buy-in from the teachers." Additionally, the middle school served one to two days of hot breakfast a week, offering variety and choice.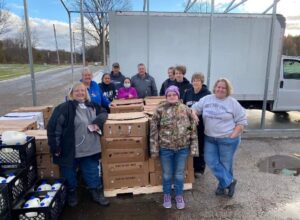 Another factor that contributed to increasing breakfast participation was sharing menus and pickup availability through different media avenues. Vanas explained, "I diligently share it on social media and send home flyers… so that [students and families] are aware of what we get. These factors all contributed to increasing breakfast participation within the school. 
Lastly, Vanas explained her passion for school meals started when she was a student in Ireland, in 1976. Due to local strikes in the area, the cafeteria manager went to the grocery store and picked up bread, ham, and perhaps most importantly, Kit Kats. "That meal impacted me more than anywhere because [the cafeteria manager] did this for us. It was the first time that I ever had a Kit Kat," shared Vanas, adding, "I think it's her fault that I do what I do!"
By offering meals for pickup to take home with the help of USDA waiver flexibilities with help from the community, having buy-in from teachers to sit and eat breakfast with their students, and offering hot and cold meal options, Shelby middle school is able to make sure students have a great start to their day with a helping hand from all in the community.