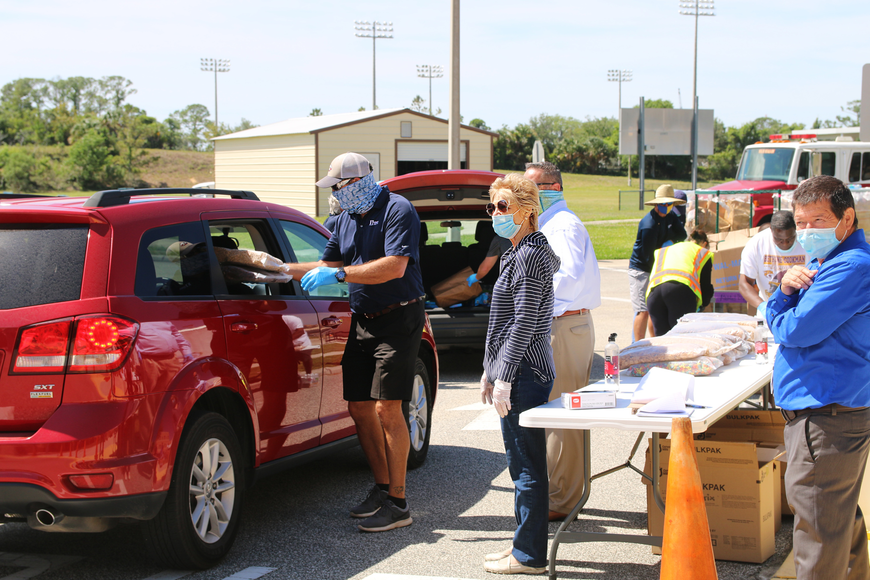 As students and parents prepared for the start of the new school year, Judi Winch, Executive Director of Food Brings Hope, prepared to ease some of their anxiety by providing bags of food and school supplies. Winch worked alongside her volunteers at a Volusia County high school to distribute 300 bags of food and 300 bags of school supplies to grateful families. One father approached Winch with tears in his eyes, "I just moved here with my family, and where I come from we don't receive help like this."
Judi Winch is very familiar with food insecurity from her 16 years as a Volusia County school administrator. In that time, she witnessed many kids come to school hungry and learned that school meals were the only meals many kids received. "I realized the importance of being fed and good nutrition making a difference in the academic success of a child." It was during her time as a school administrator when she became interested in Food Brings Hope as they provided an afterschool program for students at her school.
After retiring as assistant principal from Volusia County schools, Winch assumed her new leadership role as Executive Director of Food Brings Hope and quickly expanded their afterschool program, like the one at her former school, to a total of 30 schools across the district. The program emphasizes the importance of academics and nutrition, and they provide healthy snacks and dinners to every student. For one of their middle school programs, students meet in their school's culinary classroom where they combine nutrition education with culinary skills to make their own dinners. The benefits of the program extend well beyond the classroom as students share their knowledge and skills with their families.
Winch is also ensuring that kids at greater risk of going hungry have meals when they are not in school by delivering more than 350 Weekend Family Food Bags to schools and directly to families. Some of the families Winch sees are from an under resourced part of the county called Pierson. Food Brings Hope established a food pantry in Pierson at San Jose Mission where families can get bags of food and fresh produce every Tuesday. On Tuesday and Thursday evenings at San Jose Mission, parents can participate in ESOL classes while their kids participate in the Food Brings Hope afterschool program. At the end of the night, the families go home with boxes of food. Over the past year, the Pierson Pantry has distributed roughly 200,000 pounds of food to families.
Food Brings Hope was awarded a No Kid Hungry grant to support the successful programs that are feeding kids. Since the start of the grant in early January, Food Brings Hope has used funds to provide meals to over 6,000 families. In addition to providing meals for kids and families, the grant also funded the purchase of a box truck, which allows them to accept larger donations from local businesses and organizations, transport greater amounts of food to their Pierson Pantry and transport food and supplies for larger events and food drives.
"We are not aiming to change the world…just our own community," said Judi Winch. "Thank you No Kid Hungry for joining us in making an amazing impact on the lives of kids and families in Volusia County!"