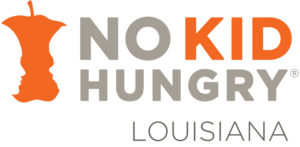 FOR IMMEDIATE RELEASE
March 7, 2022
CONTACT: Johanna Elsemore at jelsemore@strength.org
NO KID HUNGRY LOUISIANA HONORS 2022 "HUNGER HEROES" — EXTRAORDINARY LOUISIANANS ON THE FRONT LINES FIGHTING HUNGER ACROSS THE STATE
1 in 4 children in Louisiana may face hunger this year; school nutrition staff and community organizations are on the front lines combatting the crisis. 
New Orleans, LA — No Kid Hungry Louisiana today is recognizing eight Hunger Heroes from across the state, individuals who have gone above and beyond to ensure kids have access to healthy meals. This year's Hunger Heroes, nominated by members of their own community, include cooks, nutrition staff and program leaders at schools and local organizations on the front lines feeding children.
With 1 in 4 children in Louisiana facing hunger, the people who prepare, serve and plan school meals are some of the most important people confronting this crisis.
This year's Hunger Heroes include people like Coach Joe Boyd in Shreveport, who showed up to school at 6am every day during the pandemic to prepare more than 700 bags of food for families facing hardship.
When both COVID-19 and natural disasters devastated Calcasieu Parish, Director of Food Services Jacqueline Richard worked every day to provide kids with nutritious school meals, even surveying students to ensure they got food they were excited about.
"In good times and in times of crisis, these Hunger Heroes are the backbone of their communities. They truly are first responders, showing up every day during a global pandemic or following a devastating storm to ensure kids can still count on the meals they need to thrive," said No Kid Hungry Louisiana Director Rhonda Jackson. "We are so thankful for their work, and for all the dedicated people working in our schools and communities to keep kids strong and healthy."
This Year's No Kid Hungry Louisiana Hunger Heroes:
Angela Lipscomb, Child Nutrition Field Supervisor, NOLA Public Schools: Angela has more than 20 years of experience in child nutrition and is a hero to all kids in NOLA Public Schools. She works tirelessly to feed kids and is willing to take on any and all jobs to support her team.
Nicole Kliebert, PTO President, St. James Parish School Board: Nicole is always just a phone call away. For example, when Hurricane Ida devastated the Vacherie, LA community in August 2021, Nicole stepped up immediately to make sure kids at Sixth Ward Elementary and throughout the community had the food and essential items they needed to stay nourished and healthy.
Cindy Ancar, Child Nutrition Program Manager, Plaquemines Parish School Board: Cindy has worked tirelessly throughout the COVID-19 pandemic to make sure students in the Belle Chasse, LA community received breakfast and lunch each day regardless of whether they were learning in the classroom or virtually. She has also been a wonderful mentor to other child nutrition staff, providing advice and solutions to challenges that have arisen.
Coach Joe Boyd, PE Teacher Linwood Charter School – RSD, Shreveport, LA: During the pandemic, Coach Boyd showed up every day to prepare meal bags to provide to local families and children. Starting at 6:00 AM daily, he prepped more than 700 bags, and worked to make sure families knew how to access these important meals when they were facing hardships.
Lorrie Gates, Child Nutrition Coordinator, Lincoln Public Schools: Lorrie goes above and beyond to make sure school meals are delicious and served in a fun and accessible way for her students. She is a true professional and always shows up to work with a positive attitude and knowledge to share with the team to make their child nutrition program the best it can be.
Leigh Potts (Guidance Counselor) and Sherry Wentzel (Special Education Teacher),  Seventh Ward Elementary, Livingston Parish: Ms. Wentzel and Ms. Potts work endlessly to ensure that no kids in their school and community go hungry. Ms. Wentzel went above and beyond to create a food pantry in her room by collecting donations from staff and family members. Together with Ms. Potts, they made the pantry a safe and accessible way for their students to get nutritious food outside of the wonderful school meals provided.
Jacqueline Richard, Director of Food Services, Calcasieu Parish: During the COVID-19 pandemic and devastating hurricanes, Mrs. Richard worked with her team to make sure her students had access to all available meal programs and worked every day to provide those meals. She has also brought healthy food habits and nutrition education to the forefront in the district, and even offered student surveys to ensure students get meals they're excited about.
Caitlyn Scales, Development Director Three O'Clock Project, Baton Rouge, LA: After Hurricane Ida devastated so much of Louisiana, Caitlyn immediately jumped in to help lead child nutrition community programs in a disaster-affected area. With a positive and caring attitude, she worked seven days a week loading trucks, driving to distribution sites, and handing out meals to families and kids in need. 
About No Kid Hungry
No child should go hungry in America. But in the wake of the coronavirus pandemic, millions of kids could face hunger this year. No Kid Hungry is working to end childhood hunger by helping launch and improve programs that give all kids the healthy food they need to thrive. This is a problem we know how to solve. No Kid Hungry is a campaign of Share Our Strength, an organization committed to ending hunger and poverty. Join us at nokidhungry.org.