Montana No Kid Hungry joins communities in their Summer Meals  journey by offering financial support through grants and technical support through personalized planning and troubleshooting. Visit our GRANTS PAGE to learn more.
Background
During most of the year kids are guaranteed healthy meals through school breakfast and lunch. But during the summer, when schools are closed, those meals disappear. To fill this gap in access, many local schools and community groups across Montana run summer meal programs that serve food to kids at no cost. Summer Meal programs are operated at a local level, overseen by the state Office of Public Instruction, and the food is paid for by the USDA.
Summer Meals are great for lots of reasons:
Meals are provided to any kid or teen up to age 18
Meals are at no cost
No paperwork, signups, or eligibility confirmation required
Many programs organize fun activities like art projects, sports, and science experiments, in addition to serving meals
Don't take our word for it! Watch this video to see the magic of Summer Meals in Eastern Montana:
Filmed 2018
Unfortunately, we know Summer Meals aren't reaching all the kids who experience food insecurity. Most recent data shows that in Montana only 19.9% of students who eat school lunch during the academic year are also eating summer meals. Without reliable sources of healthy food throughout summer, more kids who live in families experiencing financial hardship are at risk of returning to school further behind academically, which can have exponential ramifications on academic achievement year after year.
Barriers and Solutions
The main reason Summer Meals are underutilized is because kids and families simply don't know they exist! To help combat this, every year No Kid Hungry runs a free texting service that helps families find meals in their neighborhoods. Parents and caregivers simply text the word "FOOD" to 877-877 to see all the nearby options. (The service is also available in Spanish by texting the word "COMIDA" instead.)
Another reason for low Summer Meal attendance in Montana is limited transportation. In rural towns and counties especially, but in some urban areas as well, if parents work during the day there may be no way for children to get to the places where meals and activities happen. That's why we've made it one of our top priorities to partner with communities in bringing mobile Summer Meals to kids in the form of food trucks, trailers, or even remodeled school buses. That way, the food and activities come right into kids' neighborhoods so they can easily participate. So far, Montana No Kid Hungry has partnered with towns across the state to launch 16 mobile Summer Meal vehicles:
Browning (2)
Great Falls
Billings (2)
Helena
Sidney
Missoula
Kalispell
Whitefish/Columbia Falls
Poplar
Libby (2)
Rocky Boy
Ronan (2) 
We join communities all across the state, offering Summer Meals support through guidance and funding, to make sure kids get the food they need while school is out. Visit our Grants page to learn more!
Montana No Kid Hungry has awarded over nearly $300,000 in Summer Meal grants since 2014, including over $150,000 in funding to support the launch of mobile food trucks.
Click play on the video below to see the impact of mobile Summer Meals in one Montana community.
Filmed 2018
How Montana Measures Up
Since 2015 Montana has made steady progress increasing participation in Summer Meals. Since 2015 the number of summer meals being served to kids statewide has increased by nearly 130,000. We attribute this steady climb to the fact that every year more community organizations launch a new program or add an additional meal location – Montana adds an average of 15 meal locations per year and the total number of meal locations across the state has increased by over 100 since 2014. Currently, 75% of Montana counties have at least one Summer Meals program.
Currently Montana is ranked 8th in the nation for average daily participation in summer meals compared to average daily participation in school lunch!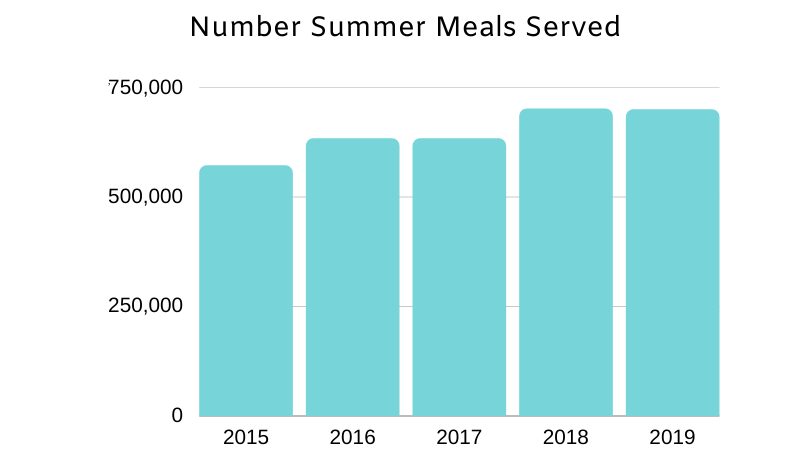 (Source: Montana School Nutrition Programs 2019 Annual Report)