During the COVID-19 pandemic, school closures have affected all of our youngest Texans, but in particular the more than 2.7 million kids who rely on free and reduced-priced meals. Without school meals, many of those kids are at risk of going hungry.
Luckily when school closures began in mid-March, school districts, food banks and community organizations rushed to ensure the millions of Texas kids who rely on school meals continue to have a healthy and reliable source of nutrition.
This month, we'd like to give a Big Texas Thank You to the food and nutrition staff across the state  working to ensure kids and families in their community stay strong, healthy, and nourished. In a time of great uncertainty, these heroes make certain that students can count on healthy meals.
This week we'd like to highlight those in the Central Texas area that are working hard to feed kids during this difficult time.
Bastrop ISD
Food and nutrition staff at Bastrop ISD moved quickly to ensure that the needs of the students they serve are met. With five curbside pick-up-sites at schools across the city, three mobile feeding sites, and deliveries available on five bus routes, the child nutrition staff are ensuring that even kids in the most rural parts of town have access to breakfast and lunch. In fact, Bastrop ISD staff served over 70,000 meals in their first three weeks of service!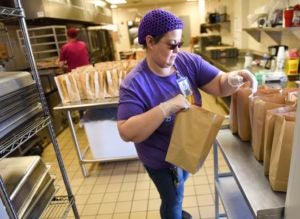 Killeen ISD
"We're all in this together" is the motto of Killeen ISD food and nutrition staff. When they realized community members weren't clear on the availability of student meals, they got to work creating laminated signs and dancing to upbeat tunes to draw attention. While working to serve meals in a time like this can take an emotional toll, the child nutrition staff has received so much positive feedback from parents and guardians who are thankful for the daily meal service. In April, they served breakfast and lunch to 53,000 children in their community.
San Marcos CISD
Meeting the nutritional needs of all students in their community is extremely important to the child nutrition staff at San Marcos CISD. Each week, staff distribute breakfast and lunch through a curbside pick-up service at various locations around town and through delivery for the rural parts of their community. Recently, to lift the spirits of the students they serve they distributed Easter gift bags along with their meals to celebrate the upcoming holiday!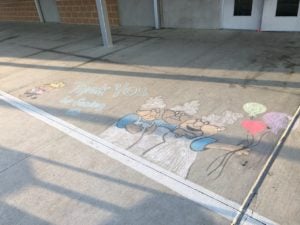 Pflugerville ISD
Each day, child nutrition staff at Pflugerville ISD prepare meals for the hundreds of students who rely on school meals each day. With 10 sites available for curbside pick-up throughout the city, any student under the age of 18 can receive meals for the day as well as weekend meals on Friday. Meeting the needs of all students is incredibly important to the child nutrition staff, all of whom have remained upbeat during a time a great uncertainty.
Austin ISD
After schools closed district wide, child nutrition staff at Austin ISD sprung into action! With more than 70 meal locations across the city, many more children now have access to the healthy food they need to thrive. Child nutrition staff at Austin ISD have served over 430,000 meals since school closures began, and utilized partnerships with organizations such as the Central Texas Food Bank to provide resources to families in their community.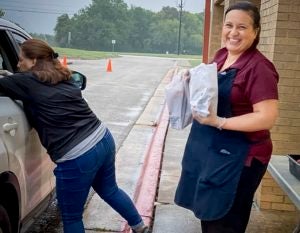 Lockhart ISD
Child nutrition staff at Lockhart ISD are working hard to ensure kids in their community receive breakfast, lunch and dinner Monday through Friday. Not only are they providing a curbside pick-up service, but they are also dropping off meals on bus routes to ensure students with limited transportation have access to meals as well. When one parent realized they missed the bus drop off time, Lockhart's child nutrition staff personally drove out to her home and dropped off meals for her kids!
In difficult times, heroes emerge. To us, each and every child nutrition staff member is a Hunger Hero! You too can be a Hunger Hero by sharing No Kid Hungry's texting hotline to make sure families in your community know these meals are available. Encourage parents and caretakers to text the word FOOD or COMIDA to 877-877 to find their nearest meal sites.
Mia Medina, Program Associate, No Kid Hungry Texas