No Kid Hungry knows that families are shouldering much of the impact of the coronavirus pandemic. Community quarantine, lost jobs and wages, and school closures have created additional economic hardship for families already struggling to get by. All of these factors make it harder for families to make sure kids have the consistent nutrition they need to thrive.
That's why we're celebrating Hunger Heroes all month long and giving a "Big Texas Thank You" to school nutrition staff, community organizations, and food banks who are working hard to provide safe and healthy meals to kids across the state. The children and families they serve depend on them now more than ever.
This week, we'd like to highlight the Texans who are stepping up in the South East region of the state to make sure no kid goes hungry in their communities!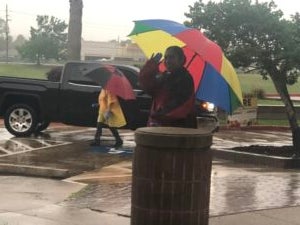 Cypress-Fairbanks ISD
Since school closures began, child nutrition staff at Cypress-Fairbanks ISD in Houston, TX have been working hard to ensure kids in their community have access to healthy school meals. On top of serving curbside meals at multiple schools Monday through Friday, they have began expanding service by making daily deliveries to a women's shelter and a nearby apartment complex to meet the needs of kids with limited access to transportation. Recently, Darin Crawford, Director of Cypress-Fairbanks Nutrition Services said this about his staff, "I am honored and humbled to work every day alongside a team of individuals who have jumped headlong into this crisis. I am filled with pride, but I am not surprised. Everyday there are children in America who experience hunger. This is a crisis too. While it doesn't get as much airtime or clicks as our current pandemic, it is every bit as urgent and tragic. Our employees fight against this crisis every day. They are always there on the front line offering a meal and a smile. They make a difference. They do good things. Every. Single. Day."
Angleton ISD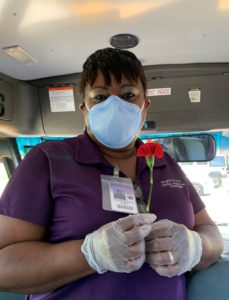 For many Angleton ISD students, school meals are essential to their health. When the district decided to close schools, child nutrition staff at Angleton ISD worked quickly to come up with a plan to continue to provide meals to students across their district. Because the district covers a very large, rural area, child nutrition staff decided to deliver meals on bus routes Monday through Friday along with two curbside pick-up sites for families that live in town. Recently, one teacher shared that she was concerned about her students as they often come back from the holidays looking physically thinner. However, after conducting a drive-by parade with other teachers, she was happy to report that her students looked healthy and happy. In April, child nutrition staff served about 4,600 meals a day!
Triangle Community Outreach
A longtime summer meals sponsor in Port Arthur, Texas, Triangle Community Outreach knows the importance of meeting kids' nutritional needs when schools are closed. When they learned that schools would close after spring break, staff at Triangle Community Outreach kickstarted their operations and started serving meals two months early. In order to meet the needs of their community, staff at Triangle Community Outreach is serving both breakfast and lunch at various locations in Port Arthur, Orange, and Beaumont and have served an average of 3,500 meals a day!
Pasadena ISD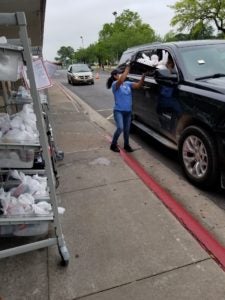 The child nutrition staff at Pasadena ISD know a thing or two about remaining vigilant in times of crisis, as they were also hit hard by Hurricane Harvey like many others in the area. They have all worked hard to meet the needs of the students they serve by offering curbside meals at multiple locations throughout the school district. As of last week, Pasadena ISD had served over 504,000 curbside meals to kids in their community!
Houston ISD
Through a partnership with the Houston Food Bank, child nutrition staff at Houston ISD has hosted multiple food distribution sites throughout the district providing food to not only kids, but anyone in the community who is in need. Each site distributes up to 15,000 pounds of food per day! Additionally, staff at Houston ISD has hosted multiple Saturday distribution events at NRG stadium and, in the first two Saturday distribution events, managed to distribute 1.3 million pounds of food.
Houston Food Bank
In addition to providing food through Houston ISD's weekly meal distribution sites, staff at the Houston Food Bank are delivering meals directly to the homes of eligible children – realizing that there are children in the Houston area who are not able to access meals served elsewhere. Through this delivery, staff at the Houston Food Bank provide five days' worth of breakfast and lunch to ensure that homebound children are still having their nutritional needs met while schools are closed.
Shepherd ISD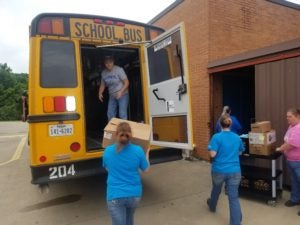 Meeting the nutritional needs of their students is extremely important to the child nutrition staff at Shepherd ISD. Shepherd ISD is a rural community that is offering both curbside pickup and delivery through bus routes to ensure that students who have limited access to transportation receive the meals they need to thrive in online classes!
We hope you will join us in celebrating the hunger heroes in your community by giving a shout out on social media or by telling them "thank you" in person. Each and every individual who is feeding kids through school closures is likely risking their health and the health of their families to help their community and deserve every recognition in the world. And remember, you too can be a Hunger Hero by sharing No Kid Hungry's texting hotline to make sure families in your community know these meals are available. Encourage parents and caretakers to text the word FOOD or COMIDA to 877-877 to find their nearest meal sites.
Mia Medina, Program Associate, No Kid Hungry Texas