As of now, all of Texas's 8,909 public schools will remain closed through the end of the school year, impacting more than 5.3 million students – many of which rely on the free and reduced priced meals they receive in school. Before the pandemic, 1 in 4 kids in Texas was living in a family that struggled to provide enough food for everyone – with record unemployment claims in recent months, that number is even higher. That's why it's important now more than ever to make sure kids are getting the meals the need to thrive.
Luckily, Texans across the state have stepped up to ensure kids have access the healthy food despite school closures. That's why we're giving a "Big Texas Thank You" to the food and nutrition staff, food banks, and community organizations across the state who are finding new and innovative ways to safely provide meals to kids during the coronavirus crisis.
This week we're highlighting school districts and community organizations in South Texas and the Rio Grande Valley who are working to ensure no kid goes hungry in their communities!
North East ISD
With more than 1 million meals served, it's clear the North East ISD school nutrition staff are dedicated to ensuring their students have food available during school closures. Not only does North East ISD have thirty-two sites available for curbside pickup of free meals, but they have also expanded to include deliveries through their NEISD Fresh Express buses to reach students who have limited transportation and cannot reach their meal distribution sites.
San Antonio ISD
At San Antonio ISD, school nutrition staff are working hard to provide seven days worth of meals to kids at twenty-nine curbside pick-up locations as well as providing deliveries at 70 bus routes to reach kids who have limited access to transportation. Not only that, but San Antonio ISD has forged partnerships with organizations such as the Walton Family Foundation to provide bags of extra fresh produce to students. As of mid-May, child nutrition staff at San Antonio ISD have served more than 1 million meals to students!
Laredo ISD
The dedication that child nutrition staff at Laredo ISD have to the students they serve knows no bounds! With twenty-three curbside pick-up sites located across the community, Laredo ISD has served over half a million meals to kids in their community since school closures began. During School Lunch Hero Day, child nutrition staff dressed up in super hero costumes to raise spirits – which was met with smiles from students and parents alike!
McAllen ISD
School nutrition staff at McAllen ISD moved quickly to ensure students in the community were fed after schools closed by setting up curbside pick up locations and developing mobile feeding routes using their school buses. In their first week of service, school nutrition staff at McAllen ISD served more than 45,000  meals! Their hard work has not gone unnoticed, as many students and parents have sent thank you notes and artwork to show their appreciation for their local hunger heroes!
Bright Nutrition
Prior to COVID-19, Bright Nutrition had not participated in community feeding. However, when they realized how many children in their community would be missing out on school meals they stepped up in a big way! The Bright Nutrition team, along with more than thirty volunteers, provide end-to-end service, packaging meals at their central kitchen then traveling to eighteen apartment complexes to drop off meals directly at the doorstep of each child.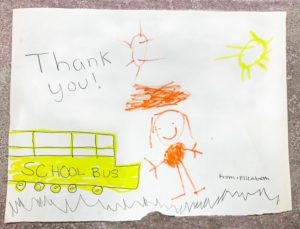 While we'll continue to celebrate our heroes throughout the month of May, we've bookmarked May 27th as a special day of thanks, bringing together partners and champions across the country to give a BIG thank you to school nutrition staff, food banks, and community organizations! We hope you'll join us on social media by giving a shout out to your local hunger heroes and using the hashtag #ThankAHungerHero!
Mia Medina, Program Associate, No Kid Hungry Texas