During this season of celebration and gratitude, No Kid Hungry Virginia is reflecting on the people and organizations who inspire us. This week, we continue with our third installment in a multi-part series that highlights the important work of No Kid Hungry Virginia grantees who ensure that kids and families stay healthy and nourished, all year round.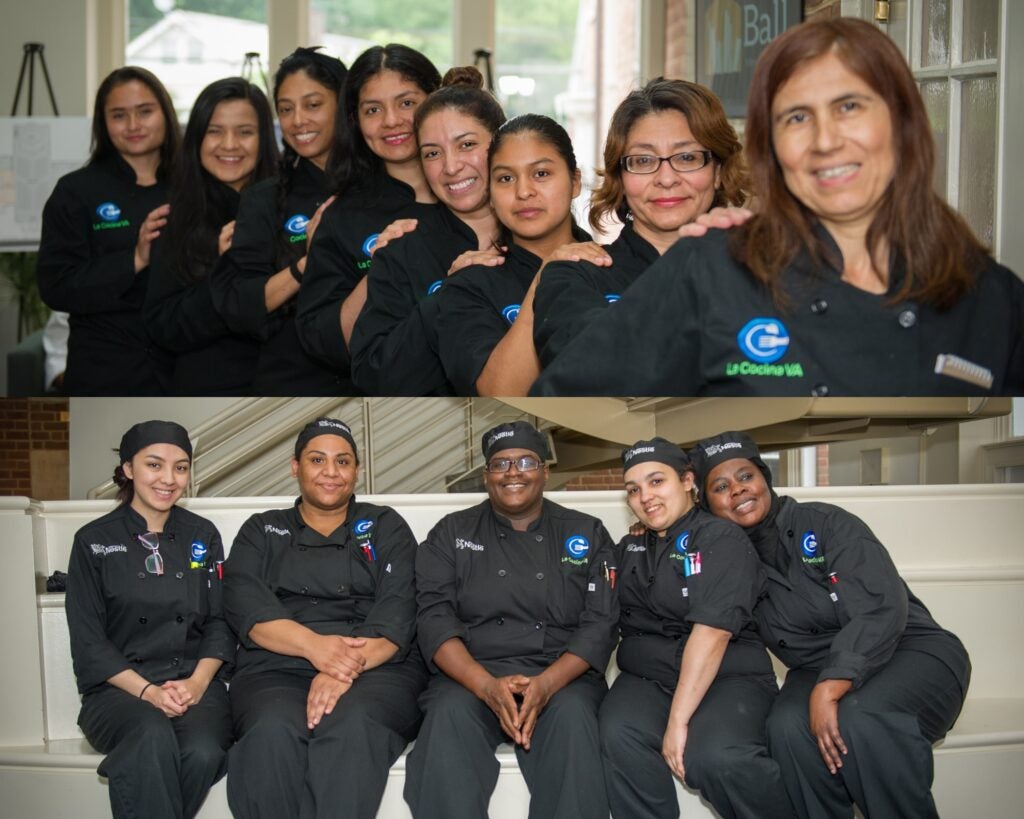 La Cocina VA's mission is to use the power of food to create social and economic change in low-income communities. The organization works with low-income and communities of color in the Washington metropolitan area to help overcome the significant lack of access to careers and workforce development programs, which is an essential component of wealth and asset building. 
In summer 2021, No Kid Hungry provided a $100,000 grant (funded by Amazon) to support La Cocina's programs and initiatives at their new facility, the Zero Barriers Training and Entrepreneurship Center (TEC), located in an affordable housing building in Arlington, Virginia. Continue reading below to learn more about their work. 
The COVID-19 pandemic has exacerbated long-standing systemic health, social and economic inequities, disproportionality impacting communities of color. How does racial equity and justice continue to inform your La Cocina's work? 
We believe that every individual, no matter their nationality, ethnicity, or background, has the potential to succeed and improve their economic situation through employment and entrepreneurship.
The whole concept of the Zero Barriers Training and Entrepreneurship Center (TEC) is to reduce systemic barriers that our clients face and to truly remove the many obstacles that prevent them from having the same opportunities as others. We believe that providing access to education, credentials, and skill improvement can provide people of color and those that faced hardships with the tools and resources to build financial stability, wealth, and prosperity to support themselves and their families.
La Cocina is one of the only bilingual workforce and entrepreneurship development organizations in the region focused on wealth building opportunities and creating a more equitable food system. Can you explain the need in the community in which La Cocina was responding?  
La Cocina VA responds to the lack of access to resources and opportunities for better jobs and economic growth often faced by immigrant communities. By providing training in both English and Spanish, we make training and education accessible to these communities. Our program participants access full scholarships that not only provide training, but also social services, and other wrap-around services. This helps to remove the financial barriers they face as they work to build skills and improve opportunities. We support our trainees throughout their time with us and for up to two years after they finish training, providing them with a dependable and comprehensive support system until they find financial stability.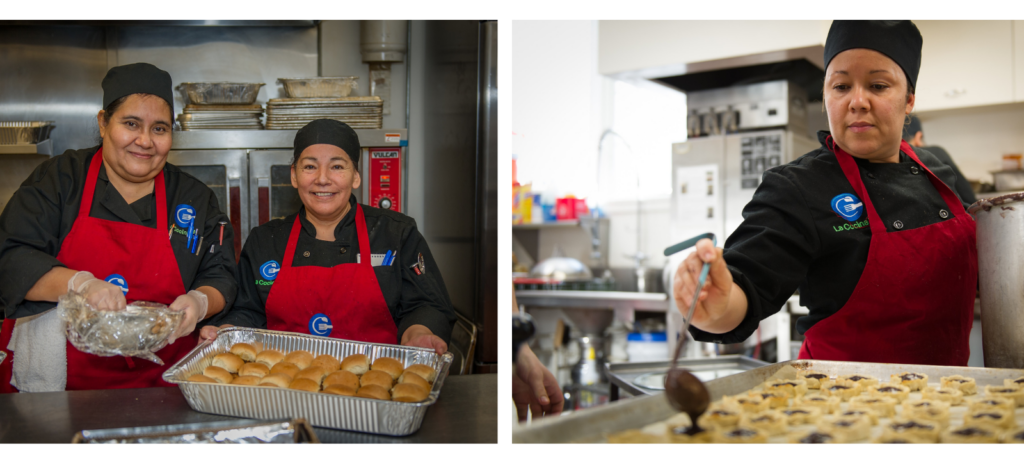 How has La Cocina partnered with community-based organizations in Northern Virginia to advance its food assistance programs? What steps did La Cocina take to strengthen its partnerships with local schools? 
Our team led targeted outreach efforts to local public schools and community organizations to offer meal delivery services for children and adults throughout Arlington at the height of the pandemic. Due to the need in the community, we were able to form partnerships with Randolph Elementary School and Arlington Partnership for Affordable Housing (APAH) and quickly began distributing meals prepared at TEC to supplement what children and families were receiving at schools and from local pantries. 
We are also partnering with Arlington Street People Assistance Network to bring hot meals to residents during the hypothermia season and holidays. Our partnership with Islamic Relief USA has allowed us to distribute over one thousand meals to families in DC and Arlington during the holidays.  
How has La Cocina been able to center the voices  of communities of color and immigrants through its programs?  
We have identified the multiple barriers that communities of color in the Washington metropolitan area face, such as the lack of information to access social services; lack of accessible education in one's own language; and preparedness to obtain good employment opportunities or to advance their entrepreneurial projects. Our programs mitigate and, in most cases, break those barriers by bringing all these opportunities closer to communities of color.
We offer our culinary and small business development training in both English and Spanish. The majority of our staff is bilingual, allowing trainees to communicate and learn in the language they feel most comfortable. Also, we tailor our food assistance program menus to meet the cultural needs of the recipients. We prepare meals and design menus that are friendly to all palettes and dietary restrictions.  
Were there any unanticipated challenges faced in implementing the food assistance programs? How did La Cocina turn these challenges into opportunities?  
Earlier in the pandemic we faced some challenges as distribution sites were struggling to recruit volunteers to support the meal distributions. We worked closely with Randolph Elementary School on a couple of occasions to engage La Cocina staff to help with the distributions. 
A few years back, we relied heavily on volunteers to help deliver meals to the community, but since moving to TEC, we are closer to the communities we serve and we've also been able to purchase a refrigerated van. This van allows us to deliver directly to our partners without relying solely on volunteers.  
What has been the impact of the organization's program to date?
We have served: 1055 Children, 1790 adults, 555 family meals. Our sites include: Seven APAH buildings and  Randolph Elementary School.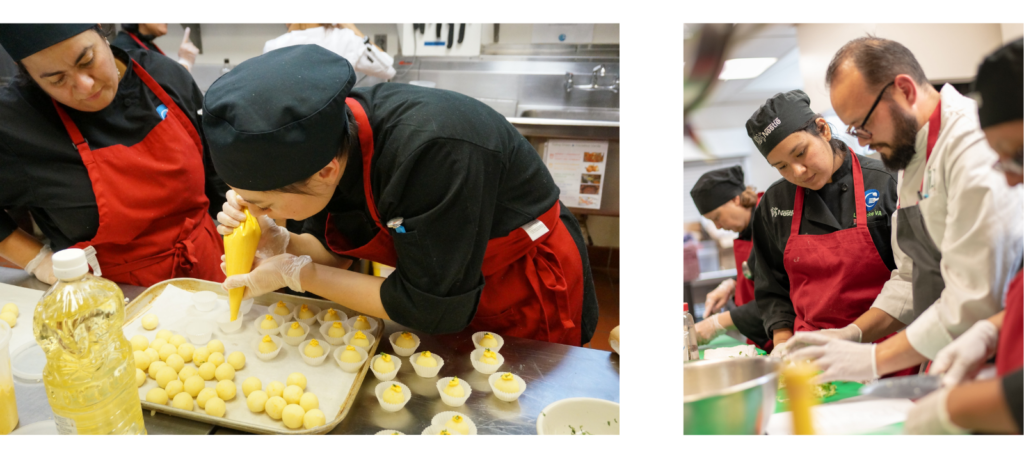 Looking ahead, what does La Cocina's food assistance program look like in the next 6 months? Next year? 
We aim to expand the number of meal distributions to other public schools in the area. We want to serve three other elementary schools in the Arlington/Alexandria area, in addition to Randolph Elementary School. We are committed to providing dignified, healthy, and delicious meals to at-risk populations in the area.  
No Kid Hungry Virginia celebrates La Cocina VA team for empowering communities of color in Northern Virginia through food training and access. To learn more about La Cocina VA, go to https://www.lacocinava.org/.