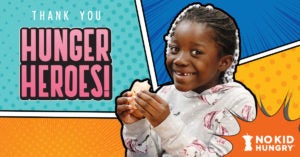 Our story in Jennings County began in July of 2020 when a group of community members was informed that Gleaners Food Bank would need to discontinue its backpack program which sent meals home with students over the weekend in the 2020-2021 school year. About 28,000 people live in Jennings County and, before the COVID-19 pandemic, about 13.5% of all individuals were food insecure. Among children, this increased to 19.5% of the county population.   
In response, a group of organizations came together in the community to fill the gap, including Joy of Giving (the non-profit arm of Harmon Construction), Good Samaritan Food Pantry, and Purdue Extension. This group grew even larger to include staff from the Jennings County School Corporation, Decatur Mold, North Vernon First Baptist Church, Gleaners Food Bank, and Ascension St. Vincent Jennings Hospital. Together, they developed a plan to create a weekend food program. 
The program is simple: using local fundraising and a monthly credit from Gleaners Food Bank, shelf-stable food appropriate for children is purchased and stored at Good Samaritan Food Pantry. Volunteers from the community then organize food into packs and deliver them to each elementary/middle school. Two hundred packs are currently sent home with students each weekend. 
When the program needed startup funds to make this a reality, they turned to No Kid Hungry. Through a $25,000 grant, No Kid Hungry is supporting this community effort through its first semester. This gives the group time to gather local financial pledges to ensure food-insecure students in Jennings County do not go hungry. We call this all HOPE – Helping Our Panthers Eat.<span data-ccp-props="{"201341983":0,"33