New August North Café Staff
The team at New Augusta North has helped increase our breakfast participation significantly over the past three years. In 2017, an average of 14% of our students were eating breakfast. We attempted a new breakfast model in 2019 that only increased our meals to 24% participation. In 2019 we made big changes that increased breakfast to 59% participation! This team stepped up to the challenge and took the initiative to help feed more of our students free breakfast each day.
The team at New August North is extremely supportive and open minded over the past several years as they continued to change their routine, roles, and daily work-life to help feed more students. We appreciate their teamwork, dedication, and willingness to make changes to better our students.
Carol Dirlam, Monroe-Gregg School District
Mrs. Dirlam does an amazing job with our cafeteria. She is actually employed by Taher, an outside food service company. Our cafeterias are exceptionally clean, welcoming, friendly and most importantly tasty. I truly believe we have the best of the best here at Monrovia. Mrs. Dirlam and her staff are always willing to try new things. The food is not only healthy but good.
Roxanne Myers, DeKalb County Central United School District
Roxanne makes sure she is feeding as many students as possible. Her school is averaging 56% participation at breakfast, the highest by a long shot in our district of 6 schools. She implemented a system that allows a quicker point of sale, allowing students more time to eat in the mornings! Roxanne (Rocki) is always forward thinking with menus and items offered to the students to create and atmosphere where they are more likely to eat at school.
Jill Overton, Franklin Community School Corp
As food service director, Jill understands that eating breakfast helps improve student's academic performance and behavior. She goes above and beyond to promote the importance of nutrition and school breakfast and creates a friendly environment in which kids are encouraged to try new food items. Her leadership, commitment, and innovative ideas truly make a positive impact on the district.
Jill isn't afraid to try to new things and empowers her staff to do the same. Jill and her team take great pride in serving providing access to food, a healthful diet and nutrition education for all children. Franklin Schools Food Service regularly promotes what they're serving, along with special events and offerings via social media. All Franklin Schools promoted National School Breakfast Week with fun menu items to encourage participation.
Karen House, Evansville Vanderburgh School Corporation
Mrs. House provides a variety of items for the students, which encourages them to come and eat. When buses are late, she keeps the line open for those students to ensure they get something to eat. On a two hour delay, we are not required to serve breakfast, but she knows the students will come in hungry, so she ensures there is a grab and go option available to them. Karen ensures that every student and staff member can get their school day off to the right start.
Mrs. House does not go along with what every other school does, but she tries new an innovative ways to make sure that students want to eat a good breakfast. She is a positive influence among the other cafeteria employees and a leader in putting what students need first.
Shelia Cox, Grissom Middle School PHM
She loves feeding the kids and loves each and everyone of them! She tries new foods to make sure the kids will keep coming back, she gives extra choices to make sure each and every student gets something they like!
Rita Tapp-Webb, Richland Beam Blossom
Rita is very innovative in menu planning with increasing breakfast participation in mind. She's taken it upon herself to make smoothies, homemade egg burritos, homemade breakfast sandwiches, and other breakfast favorites. Rita has the most challenging school, as far as increasing participation, the High School. She's willing to do anything to get her kids to eat school breakfast! RBB offers free breakfast to all. We are a no cost breakfast corporation as the school does not qualify for universal breakfast with our district f/r percentage at 38.6%. When Rita learned that our district would provide free breakfast to all students, she skipped through the dining room! She cooks! She talks with her students to find out what they want to eat! Homemade items are at the top of their list!
Daral Dwenger, Northern Rush County School
Darla goes out of her way to learn all students and employees names and birthdays so she can wish them happy birthday on their day! She always makes sure everything is clean and displayed nicely, and accurately. Even if the students get a hot breakfast they will go by her cold breakfast line just so they can see her. Excellent worker, an inspiration and encouraging to everyone. Darla even calls from her home while off the clock to see how fellow workers are doing if ill or if we are just off for a few days!
Christine Clarahan, School City of Hammond
When schools were ordered to shut down in March, the food service staff of School City of Hammond in Indiana jumped into action to make sure the kids in their district wouldn't go hungry. Christine Clarahan and her team got creative, putting together a drive thru where families could pick up meals for their kids three times a week. Through rain or shine – and even snow – they've served more than 280,000 meals since the shut down. To help continue her mission, King's Hawaiian donated $50,000 to her school district as part of its partnership with No Kid Hungry. Through the organization, King's Hawaiian is helping to provide up to 1.5 million meals for kids in need during this crisis and beyond. Clarahan said the extra funds would allow her school district to keep providing fresh produce for the kids and to buy more supplies and food safety equipment for the work to make sure those children are fed.
Nora Burgess, Evansville Vanderburgh School
Nora has led the school corporation in feeding hundreds of children weekly. She has operated 15 grab and go sites. She has served over 80,000 meals in just 6 weeks. The school corporation made the decision to give 10 days worth of food in one box to families the last 4 week of school. The first box pick up date was April 27th. That day 8,000 boxes were handed out. On May 11th, they plan to give 10,000 boxes out. She has rolled with the changes all the while keeping community partners abreast of the school plan so other agencies can work around her schedule to help feed the families as she feeds the children of Evansville.
Haley Quade, MSD Warren
Haley has worked tirelessly with her district leaders to get food to all students and their families during this pandemic. She has been able to organize getting meals out to students and families through buses, as well as has 11 locations throughout the district where families can receive these free meals. She has even worked with her staff to create opportunities for families to receive meals at night if they need. Her and her team are doing all of this while continuing to keep up with state and federal food guidelines—always striving to serve the healthiest meals possible. In the past year, before COVID-19, Haley voluntarily championed MSD of Warren's wellness policy. She was able to update the policy which made a huge impact on improving school snacks and eliminating unhealthy practices at the district and school levels. Haley took on the role of overseeing the district wellness council and even applied for a state grant to bring a hot breakfast into the high school, which she won! Along with addressing nutrition in Warren she has also helped create healthy schools by championing other best practices such as, not taking away recess as punishment and advocating for more employee wellness programs. Haley is one of the most hard-working individuals anyone can ever meet. She truly wants every MSD of Warren student, employee, and community member to have the best available resources to live a healthy life.
Tonia Batesole, Porter Township School Corp
Tonia is an awesome Food Service Director. She has faced so many challenges in the 2 years she has been director. She started with budget issues and many different inspections and reviews. She cares for her managers and the whole staff. She put together a system during covid-19 that feeds 400+ students in our school system with 5 breakfast and 5 lunches for the week. Thank you for all that you do!
Natalie Turner, Greater Clark County School
Natalie Turner has been an absolute hero during all of this Covid madness! She has worked many hours and weekends to ensure that our school meal program is still feeding kids! GCCS has fed over 70,000 meals during this time. Without her excellent leadership it wouldn't have been possible. She is a TRUE SCHOOL LUNCH HERO!
Susan Harding, Jennings County School
Susan Harding is the Jennings County School Corporation Food Service Director. She and her dedicated staff have led the effort to feed children in the wake of the school corporation's decision to shift to e-learning. After that decision, they coordinated the preparation and pickup of thousands of meals for thousands of school corporation students and their younger siblings over a three week span. Then, the Food Service Department pivoted to enrolling the school corporation in the Emergency Meals to You Program, a partnership between Baylor University and the USDA. This program allows students enrolled in the school corporation's free and reduced price program to receive prepackaged meals every two weeks until June 30th. Jennings County School Corporation is the first Indiana school district to participate in this new program! In their recent enrollment drive, 118 school corporation staff, led by Susan and the Food Service team, enrolled 2078 children in the meal delivery program over just three days. Their heroic efforts are protecting the food security of vulnerable families in Jennings County and we are thankful for them.
Monroe County Community School Corporation
With school buildings closed for the year across Indiana and unemployment skyrocketing due to the pandemic, we know many families may be struggling to make sure their kids are fed. Vickie Coffey, director of nutrition services and healthy schools, tells us that the need is growing for meals in their more rural community. If parents are working during the day or the people at home don't have their own transportation it can be difficult to make it to their weekly meal pickups. That's why the district is bringing the food to some of their neighborhoods most in need right now, using their healthy food truck. Other heroes worth recognizing are the following:
Sharon Stanton a kitchen manager at Templeton Elementary School: Her passion for child nutrition and total knowledge of the program is apparent in her work. Sharon has complete understanding of the program and implemented all of the concepts and procedures she'd been trained to do. She is fully dedicated to the program and has passed that dedication on to her staff through training and support for them.
Nathan Oliver, Director of Transportation: During the unanticipated school closure Nate volunteer his staff to provide meal delivery service to the community. His knowledge of routing and where large numbers of kids lived was instrumental in establishing and maintaining our mobile routes during the COVID-19 Pandemic. He has been extremely supportive through this unprecedented time.
We're so grateful to all of the amazing people who are hard at work finding new and innovative ways to feed hungry kids while schools are closed.
Beech Grove City Schools
When Beech Grove City Schools learned they were going to have to close in an effort to reduce the spread of the coronavirus, the superintendent, head of dining services, and staffers moved quickly to ensure their community still had access to food. With curbside pick-up-sites at schools across the city, mobile feeding sites, and deliveries available on 3 bus routes, the child nutrition staff are ensuring that even kids in the most rural parts of town have access to breakfast and lunch. In fact, Beech Grove City Schools staff served over 24,000 meals in their first three weeks of service!
Marion Community Schools
When was the last time you heard anyone operate the Summer Food Service Program in the snow? Marion Communities are determined to serve meals to kids in need during the pandemic no matter what! In the months of March and April, they provided a quarter of million meals (275,000) through their drive-through food distributions. We thank you for your GIANT effort and for working around the clock to get hungry kids the reliable meals they need!

Crawford Community Schools
Schools may be closed but that isn't stopping Crawford Community Schools from making sure their students have the meals they need to continue growing towards greatness. Every Monday they provide 1,200 to 1,300 kids with breakfast and lunch for the week. They moved swiftly to ensure their staff and volunteers had enough personal protective equipment (PPE) by requesting donations from a variety of companies. Impressively, they were able to obtain 820 masks and some plastic bags for lunches! Let's all say a huge thank you to the folks over at Crawford Community Schools for the amazing work they do!

MLK Community Center
The Center is providing hope to vulnerable communities in Marion county, one of the counties that have been hardest hit by the virus. The MLK Community Center is a non-profit neighborhood hub that has been feeding local families since schools were closed on March 13th. For example, Lisa Thompson, who is moving her three children to the neighborhood, found herself in a tough position where she had to choose between getting her car fixed and groceries. She chose groceries and out of necessity walked to the Center under the rain to pick up meals for her family. In the first two weeks, the Center delivered 2,000 meals and in one day are delivering anywhere between 50 and 75 addresses. We are so grateful to MLK Community Center and all of the #HungerHeroes helping kids and families like Lisa now and always.

West Washington
Servant leaders from West Washington Schools stepped up to provide kids with the meals they need! Three days a week their kitchen is filled with 15-20 volunteers from 8 am to 11 am. They serve approximately 3 communities in the rural part of the county overlapping food deserts. Using bus delivery they've served over 32,000 meals. That's why we're so grateful to West Washington Schools for working around the clock to get hungry kids the reliable meals they need! #ThankAHungerHero 

South Bend Community School Corporation
The South Bend School district consist of 17,697 students, 11,899 of them qualify for free and reduce meals. The students depend on school lunch programs to have at least two meals per day and during this crisis South Bend Community Schools came together to meet the challenge of providing meals to children head on. Their project is to reach low income communities and delivered meals to ensure no children goes hungry during this crisis. They provide daily meals for 13 sites. They also added five Wi-Fi buses that will distribute meals Monday through Thursday. They are committed to provide meals to all children and their mission is to avoid hunger in this time of insecurity.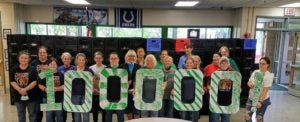 New Castle Community School Corporation
New Castle Community School Corporation is celebrating their hard work of surpassing 100,000 meals. They have a free and reduced rate of 60% with three elementary schools with rates that exceed 70%. Additionally, New Castle is the largest school district in Henry county including urban, suburban, and rural areas. They understand it takes a village to meet the nutritional needs of kids and families so with the help of the community they have found innovative ways to distribute meals. We're so grateful for you and all of the #HungerHeroes helping kids now and always.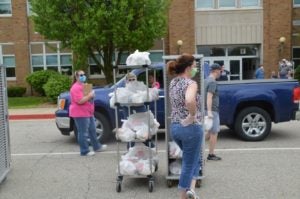 Jennifer C, Twin Lakes School Corporation
Jennifer C., NEW Food Service Director, at Twin Lakes School Corporation was nominated as a Hoosier Hero from our community in Monticello, Indiana. Every week, Jen adapted to the production needs of climbing numbers. She changed from distribution twice a week, to distribution once a week. At the peak, 1590 students were served=15,900 meals in one week-in one distribution. Since that time, prepackaged items are less and less available, and Jen had staff begin bagging and cupping foods that could be purchased in bulk. She changed from serving 10 half pints of milk per student, to a half gallon + 2 half pints. Bags to be used continually were changed to meet the needs. Every week there was some adaptation to get the job done. Jen has been positive, gets the job done, and is a take charge person in her new role. She created the menus on the fly, and handled employee issues. Working with masks, and gloves-this task will continue thru June 22 before looking ahead to whatever the 2020-2021 school year will look like. It's time to celebrate Jen's accomplishments and reward her with this Hoosier Hero title for our community. Thank you for all that you do!

Aprile R, Daleville Community Schools
Despite the early morning fog, patrons of Daleville Community Schools lined up around the elementary school to receive food for the week. The Daleville schools on Wednesday provided 6,100 meals for families residing in the school system. "We do the summer food program and so we're just doing this to help our families," said Aprile Reed, food service director for Daleville Community Schools. Reed said the school is purchasing all the food and will get reimbursed for some of the meals. Getting emotional, Reed said the staff is doing the work by giving up their time and taking the risk. "We're planning on this every week until this is over," she said. "It's stressful, but I feel blessed to be able to feed all these people." Reed said the families email the numbers to the school so they know how many meals to prepare. It's a week-long job. We're beyond grateful to April Reed for helping kids in Daleville get the nutritious meals they need despite the school closures. Thank you for making sure no kid goes hungry! #ThankAHungerHero

Holly H, Caramel High School
Holly has been a tremendous leader and asset to the Supplemental Feeding Program since schools closed on Friday, March 13th. With very little preparation, they put together a feeding plan to feed 625 students a week out of Carmel High School. Holly serves as our Cafeteria Manager at Carmel High School where she supervises 60 employees and oversees meal production for 5,000 students. During the Supplemental Feeding Program, Holly led volunteers, placed orders, packed meals and often came in on the weekend to prepare for the week's packing event. Her leadership, work ethic, and commitment made our program a huge success. With Holly's guidance and perseverance, the team supplied almost 50,000 meals to students while school was closed. The team is so thankful and proud of her leadership during this uncertain time.