It's that time of year again! For many kids across Indiana, school is out and summer is here – and with summer break comes summer meals. For kids who rely on school breakfast, lunch, and afterschool meals, summer can be the hungriest time of year. Fortunately, communities across Indiana are taking care of kids through summer meals programs, and making sure they get the healthy food they need.
Summer Meals Resources
No Kid Hungry Indiana is committed to supporting families and summer meals providers, and we have a number of resources available to make sure kids have access to the food they need to thrive.
Families can text FOOD or COMIDA to 304-304 to find a site with meals for kids closest to them when school is out. New this summer, families can also use WhatsApp to find free summer meals – visit NoKidHungry.org/WhatsApp to learn more. This toolkit includes a range of ready-made promotional materials to help publicize summer meals in your community.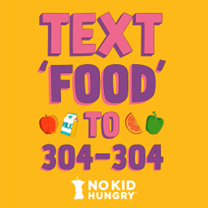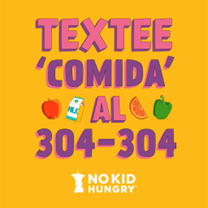 This toolkit was created to help you get the word out to families about meals available for children and teens this summer. There are a variety of ready-to-use and customizable materials—in both English and Spanish—to help you quickly and easily communicate with families. Find social media graphics, sample social media posts, postcards, and more.
Successful Non-Congregate Meal Service Models for Rural Areas: Implementation Guide
This resource outlines effective models for non-congregate meal service. Use this guide to find strategies and tactics to execute a successful non-congregate summer meals program in your rural community.
Feeding a Crowd: Tips for Congregate Meal Service
This resource provides strategies to make congregate meal service easier for site staff and improve the experience for children and families. Use the strategies outlined to create a welcoming and fun environment and also tips for training and communicating program requirements to site staff and families.
Promoting Your Summer Meals Program: Tips, Tricks, and Strategies to Spread the Word
Raising awareness about your summer meals program is key to ensuring children and families have access to meals all summer long. Whether you are a sponsor, site, or advocate, you have a role in spreading the word about summer meals.
At No Kid Hungry Indiana, we are so grateful to our meal sponsors and providers across the state for making sure that Hoosier kids have access to nutritious meals all summer long. If you need help implementing a summer meals program, or are looking for guidance or support, fill out our inquiry form and we'll be in touch!