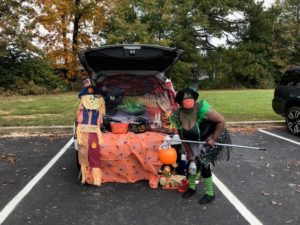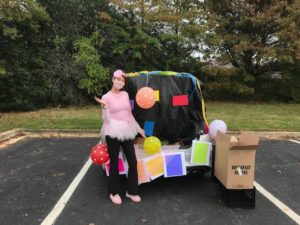 "We are all so excited. This is the highlight of our week," says a parent, as a little cowgirl waves happily. This is their only chance to dress up for Halloween," says another parent with a masked, scary ghost in the backseat.
What are they excited about? The JC Parks Elementary Food and Nutrition (FNS) staff in Charles County, Maryland held a "Trunk-n-Treat" at their free meal site. Dressed as a milk carton, FNS Manager Vicki Langley, known as "Miss Vicky," greets each family and gets their meal count, stopping to chat with familiar faces and take pictures of the kids in costumes. Clearly loved, many of the kids shout, "Hi, Miss Vicky!" from the car before they've even pulled up to her. Due to social distancing, the meals are placed on a cart further down the parking lot by another staff member for the families to pick up.
Then, the family gets to drive the parking lot loop to get candy from FNS staff dressed up as witches, ballerinas and pumpkins. They have gone all out decorating the trunks of their cars with pumpkins, streamers, scarecrows and Halloween scenes. When I thank one of them for going above and beyond, she replies, "Oh, of course! This day is especially important because Halloween is going to be so different this year." This is the only chance for many of these kids to dress up and get candy due to COVID.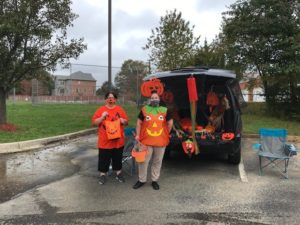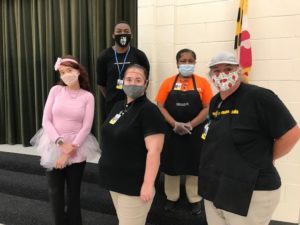 School looks different this year, as kids are learning virtually rather than in the classroom. But one thing remains the same: school meals are an important source of nutrition to fuel learning. In fact this year more than ever, with many families having lost jobs or had their hours cut as a result of the pandemic, kids rely on the meal they get from school. Yet many schools across the country have seen a massive dip in participation.
Theme days are just one strategy schools are using to encourage families to participate. In Charles County, it was Miss Vicky's idea to try theme days and they have been doing them for months now. "At first when the kids were coming for meals, we had to wear protective masks that were kind of scary to them and they were like, 'That's not my Miss Vicky' and the other staff they know." So she decided to make it fun and welcoming.
This isn't the first theme day Miss Vicky has planned, and sometimes she gets the ideas from the kids. There has been a Pirate Day, Ninja Day, Disney Tea Party, Unicorn Day, and a First Responders Day where the kids gave thank you notes to honor them. There was even an "All the Holidays in One Day to get 2020 out of here" day! The other FNS staff get in on the fun, and Miss Vicky has even spent her own money to buy costumes for them.
Miss Vicky and the staff thought they might serve more than their normal 125 kids by doing Trunk or Treat, so they prepared extra meals. However, they had to quickly make even more when they surpassed that number just one hour into their two hour service, and ended up serving 250 kids!
Here's the thing: Serving meals during this time has been a serious challenge for these food providers. Crystal Richardson, Supervisor of Charles County Food and Nutrition Services, recalls how they changed their whole operation over a weekend to make sure kids are getting meals. "Normally we take months to fully prepare to serve meals like this for summer, but we did it in a few days." They have also faced the regulations changing several times since March, keeping them on their toes and making for some very long days.
Thankfully, we have people like Miss Vicky and her team who care so much they go out of their way to make it a fun experience for kids in what can be a scary, sad time. It really only takes a few people to make a huge difference. No Kid Hungry Maryland is so grateful for Miss Vicky and the Charles County FNS team for making days brighter for our students, and making sure they continue to get the nutrition they need to thrive.