The No Kid Hungry team sat down with Maryland Senator Cory McCray for a conversation about equity, nutrition, and food security. Sen. McCray shares his story below.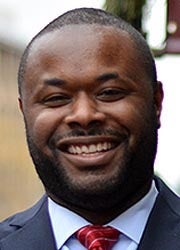 Can you introduce yourself?
I was elected to represent the 45th Legislative District in the Maryland State Senate in 2018. Additionally, I serve as First Vice Chair of the Maryland Democratic Party.
My story is deeply connected to my city. I grew up in Baltimore, a city where our greatest resource is our hard-working citizens. In spite of that hard work, growing up I saw a lack of deserved opportunities for those who do work so hard. As a teenager at Fairmount-Harford High School, I was also in search of opportunity.
After a brief trip down the wrong path as a teenager, I discovered apprenticeships at the age of 18. The rest is history. By 19, I had become a member of the International Brotherhood of Electrical Workers. By 20, I was a homeowner. I continued to meet opportunities halfway, working my way through community college and a bachelor's degree, all while growing a small business focused on rental properties.
Those years also brought me marriage and four loving children, along with a career focused wholly on working families and the communities they hold dear. I continue working for my local union and as a community organizer to this day, helping expand the opportunity for a better life to men and women across our City.
My approach to public service is listening to my constituents' problems and then figuring out how to solve them. I make sure that my neighbors have a voice in Annapolis, MD. I advocate and implement policies that are beneficial to those who rely on me to be that voice.
As the 45th District's Senator, I am continuing my mission to bring greater levels of resources and equity to the City of Baltimore.
How did you get involved in the nutrition / anti-hunger space?
In 2019, I got the opportunity to work on summer SNAP which expanded monthly payments to families needing access to fresh food for the months of June, July, August and partial payment for the month of December. All and all, access to affordable, fresh, and quality food is a basic human right. It is my obligation, and pleasure to provide the people I am so honored to work for access to these basic necessities.
What are the biggest nutrition issues your district is facing? What are some of your achievements in this space?
The main issue lies in a lack of access to fresh food via a grocery store. We have successfully worked on campaigns that expanded opportunities during the summer months, efficiently structured processes to provide greater access for those needing heat assistance and food assistance. We are also currently working on offering capital assistance to a grocery retailer looking to occupy space in the Oldtown neighborhood footprint.
 In your roles with National Black Caucus of State Legislators and the Legislative Black Caucus of Maryland, what are your thoughts on the intersection of race, equity and food security?
Policy is a large driver for the good things that happen in neighborhoods and the bad things that happen in neighborhoods. The Legislative Black Caucus has a large role in amplifying the inequities that plague our neighborhoods and ensuring that our colleagues are strategic and supportive of moving the neighborhoods that have been neglected for the past several decades. Food security is an issue that specifically impacts Black communities not only in Baltimore, but nationally. There are so many factors that go into the struggles these communities face, and lack of food security is merely a side effect. Having people who come from these communities, and understand the struggles they face helps give these communities a voice, and work towards providing them with what they deserve.
What excites you about this work and what do you hope to work on moving forward?
While many of the issues that I am working on will not be resolved in my lifetime, I am setting a strong foundation and path for the next generation of leaders to lead successfully. My main priority is always supporting the youth now, and paving a secure path for their futures. Whether it be advocating for school funding, building playgrounds, or making our communities safer, everything I do has the best interest of youth in mind. Overall our youth are the future of not only our city, and our country, but our world. It always starts at home, and I want to see our city continue to make progress, and see the success it deserves.