FOR IMMEDIATE RELEASE | December 16, 2020
Contact: Eleni Townes, ETowns@strength.org
No Kid Hungry Ohio
Promotes School Meal Programs during the pandemic and support
s
districts efforts to reach all students
Washington, DC: As part of No Kid Hungry's continuing effort to ensure all children in Ohio remain nourished and healthy, the campaign announced today an additional $849,327 in grants to 29 school districts to support school meal programs this semester.  
"School meals are available to students across Ohio no matter if they are learning remotely or participating in a hybrid model," says Eleni Towns, associate director for the No Kid Hungry campaign. "We at No Kid Hungry are in awe of the phenomenal work of school nutrition staff. They have been at the front lines of this pandemic, working creatively and diligently to reach all of their students by offering curb-side pickup meals, delivering meals to bus stops or community centers, collaborating with community groups to offer additional family food boxes, and more."  
Below are the most recent recipients of the 2020 NKH Grants from across the state of Ohio, with funds totaling over $1.2 million this year. Take a look at the map below to learn more information about the grantees in Ohio.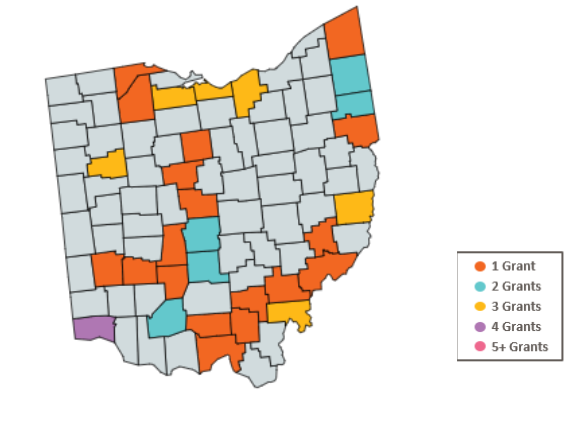 Sandusky City Schools

Belpre City Schools

Lorain City School District
Northridge Local Schools

Oberlin City Schools

Niles City Schools

Edison Local Schools (formerly Berlin-Milan)

Caldwell Exempted Village Schools
Cleveland Heights University Heights School District

Hillsboro City Schools

KIPP Columbus

St. Clairsville Richland City Schools

Cincinnati Public Schools
Northwest Local School District
Boardman Local School 

Lima City Schools 

Circleville City Schools 

Elyria City Schools 
Bridgeport Exempted Village School District 

Elida Local Schools 

Youngstown City Schools 

Saint Martin de Porres High School Southern Local 
Defiance City School 

River Valley Local Schools 

Ashtabula Area City Schools 

Horizon Science Academy of Lorain 

Mt. Healthy City School District 
Cleveland Metropolitan School District 
Despite the extraordinary need, many children are missing out on school meals. Families can text FOOD or COMIDA to 877 877 to learn more about meal site options available near them and should reach out to their local school district for information on how to collect school meals.