June 2, 2022
No Kid Hungry Texas today is recognizing five Hunger Heroes from across the state, individuals who have gone above and beyond to ensure kids have access to healthy meals. This year's Hunger Heroes, nominated by members of their own community, include cooks, nutrition staff and school leaders on the front lines feeding children. 
With 1 in 4 children in Texas facing hunger, the people who prepare, serve and plan school meals are some of the most important people confronting this crisis. This year they faced both logistical challenges and added costs, making their work to provide meals for the kids who need them all the more heroic. 
"From staffing shortages to supply chain disruptions, uncertainty around child nutrition waivers and the increased cost of food, this has been an extraordinarily challenging school year to operate school meal programs. But these hunger heroes never missed a beat, going above and beyond the call of duty to ensure kids could still count on the meals they rely on," said No Kid Hungry Texas Director Stacie Sanchez Hare. "We are so thankful for their work, and for all the dedicated people working in our schools and communities to keep kids nourished and healthy."
THIS YEAR'S NO KID HUNGRY TEXAS HUNGER HEROES:
Diana Brown, Quality Assurance & Compliance Coordinator for Cypress Fairbanks ISD Diana stopped at nothing to ensure kids in her community had nutritious meals during the pandemic. When schools closed, she brought the food to them, delivering meals to the apartment complexes where kids live come rain, freezing cold or extreme heat. Diana was nominated by a parent in her community whose children relied deeply on the meals provided, sharing, "we have no other resources and we survived this crisis because of the heroes at schools and the local food banks and churches."
Dr. Coy Holcombe, Superintendent at Eustace ISD Superintendent Holcombe was at school every single day working alongside his school nutrition team to bag and distribute meals for kids in their district. He even personally delivered meals to families living in rural areas, who were unable to make it to a school site to pick up meals. "He kept us going and made us feel greatly appreciated," said Food Services Director Carolyn Davis, who nominated Dr. Holcombe. "At the end of the day he told us we have the most important job of all – feeding our kids."
Esther De Hoyos, Cook at North East ISD As a 24 year veteran of North East ISD's school nutrition team, Esther is a mentor to the more junior members of the team. She's always eager to pass along her wealth of experience, training new employees in order to build the next great generation of school nutrition professionals. But the best thing she brings to work each day is her positive attitude. "She greets each student with a smile and a kind hello, and truly brings laughter and joy to everyone she comes across," said the colleague who nominated her for this award.
Marc Steiner, Cafeteria Manager at Wimberley ISD
Marc has not let a year rife with staffing shortage, supply chain disruptions and other challenges get in the way of feeding the students at Wimberley ISD. Even with just one staff member on crew, he prepared and served meals to the higher volume of students at the junior high school. "I am nominating Marc for his strength, courage and perseverance in a very different school year," said Child Nutrition Director Heather Baldwin. "Thank you Marc, for your dedication to our district, and most of all, feeding our students!"
Matilde Rodriguez, Child Nutrition Staff member at Garland ISD
When the COVID-19 pandemic shut down schools across the state, Matilde worked endless hours to ensure students could continue to count on nutritious school meals. Whether she was arriving early or staying late, or even coming back to the school in the evening to pass out lunches for students, she was always there with a smile on her face ready to work and serve. This isn't the first time Matilde has gone above and beyond when faced with a challenge, says her daughter Melissa, who nominated her for this award. When she moved to America, she learned a brand new language and set of skills so she could communicate with her friends, coworkers, and the children she serves.
Diana Brown (left), Quality Assurance & Compliance Coordinator for Cypress Fairbanks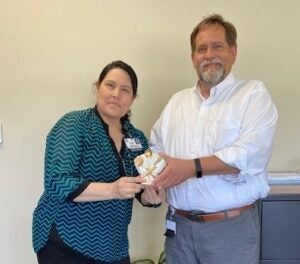 Esther De Hoyos, Cook at North East ISD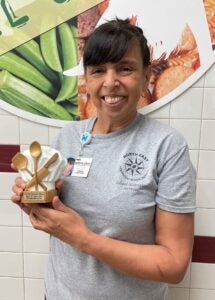 Marc Steiner, Cafeteria Manager at Wimberley ISD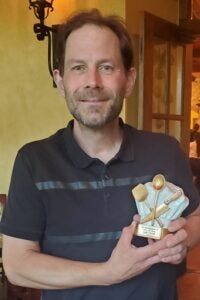 Matilde Rodriguez, Child Nutrition Staff member at Garland ISD