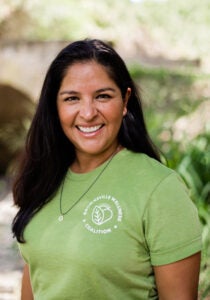 No Kid Hungry Texas is honored to continue to celebrate the contributions Hispanic hunger heroes have made in service of feeding and nourishing their communities. This week, we're celebrating Veronica "Vero" Dimas, who is the executive director for the Brownsville Wellness Coalition. 
Para leer el blog en español, haga clic aquí. 
Vero Dimas was born and raised in the Rio Grande Valley. She comes from a large family and has four daughters herself. As the eldest of 11 children, her father left to work in California from Brownsville with his brother in junior high, where they learned the benefits of being migrant workers and brought that back to the family. 
Her father was not only providing for his family financially but, without even knowing it, was making a large impact on society. The beautiful strawberries that he harvested allowed families to put food on their tables. Vero's dad shared stories about working with Cesar Chavez and Dolores Huerta. He wanted to be more involved in their work but was afraid to share his voice because he knew that he was the leader of his family and the breadwinner. Vero admires the stories her father has shared and tries to emulate his beautiful work ethic.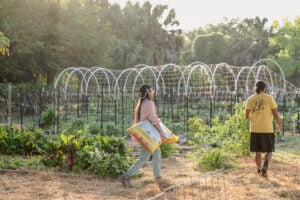 With a group of volunteers, Vero helped build a community garden at her daughters' school, Saint Mary's Catholic School. She joined a Master Gardening program where she learned more information about food insecurity and food justice data. In 2014, she joined the Brownsville Wellness Coalition part-time as a Farmers Market Manager. Vero immersed herself in the work, after learning of Brownsville's nutrition challenges and the work that needed to be done she found herself working longer than the part-time hours . 
When Vero first joined the Brownsville Wellness Coalition, the farmers market was small. Within a couple of years, Vero was able to increase the farmers market from 12-13 vendors to 52 vendors. The vendors sell everything from fresh produce, fresh eggs, artisan bread, to artisan sellers. In 2016, Vero was offered the opportunity to become executive director for the Brownsville Wellness Coalition. When Vero started at the organization, they told her it was only going to be a 5-year health initiative at most. However, it quickly became Vero's mission to cultivate health and wellness as a lifestyle for her community.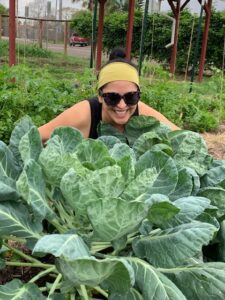 Can you speak about how your family and community have inspired you to a life of service?
"I think recognizing the struggles and challenges that all of our ancestors went through is important. Like my abuelito and abuelita, todos se iban a trabajar en el campo, (like my grandfather and grandmother, they all went to work in the fields). Recognizing the work that they did, instilling strong work ethics and creating a sense of community through our family and locally… I think having those stories and acknowledging the work our ancestors have done, from putting that seed in the ground to feeding our families, has taught me that community is so important. I tell my girls 'it takes a village, it takes comunidad (community), to be able to move forward.'"
Who is your Hispanic hero?
"Dolores Huerta, because I can relate to her. I think about her struggles and how in her time she was such a pioneer. I feel like she wasn't as recognized for what she did and I feel that right now we need to give her justice for the work that she did and is still doing. She continues to be a hero to all of us; especially in the farming industry and to migrant workers."
Are there some ways that you celebrate your culture or heritage?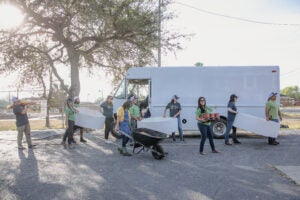 "Coming from large families, we celebrate our culture every Sunday when we have brunch as a family. We eat the food that our grandparents made and we break bread as a family. Not only is it about breaking bread, but also sharing that table and having those conversations about life struggles. For me that is very important, and I have always instilled in our daughters that every Sunday is the time we have breakfast with grandma and grandpa. It is a really nice way to celebrate our culture."
How are you celebrating Hispanic Heritage Month? 
"Brownsville Wellness Coalition is working with the American Association for Retired People (AARP), a community partner, to invite their members to participate with us in the community garden. We are also working with other community partners like the art museum. 
This past Saturday we had a Conjunto, (regional Mexican music band), at the farmers market. In addition, every Saturday this month for dieciséis dé septiembre, (16th of September, Mexican Independence Day), we have mariachi at the farmers market. We are also going to be working with some local artists to build a mural on a storage container that was donated to us. There is always some kind celebration around here!"
Stay tuned for more stories from Hispanic hunger heroes in Texas.