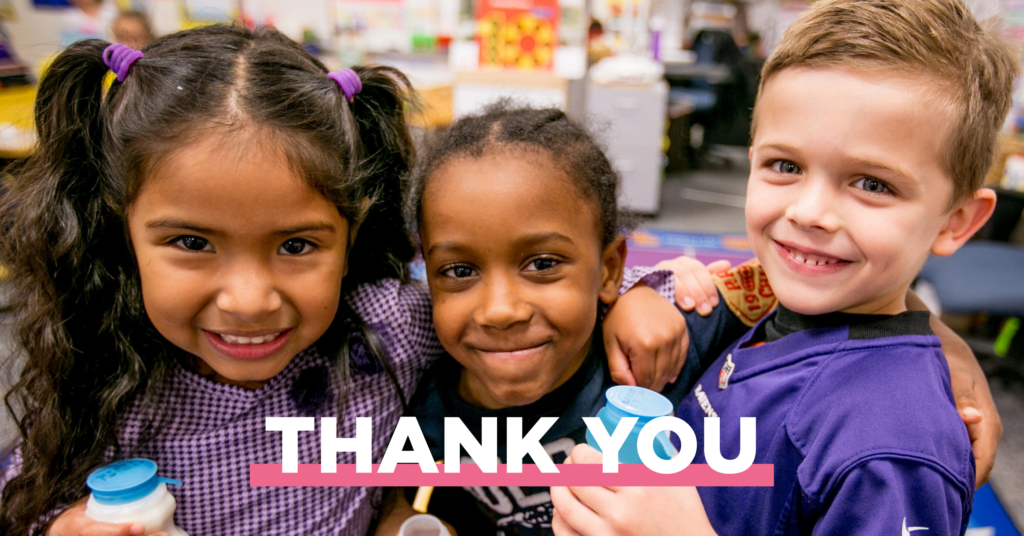 May 6th is National School Lunch Hero Day! Virginia's school nutrition staff are superheroes: each and every day, they put on their capes and fight hunger in cafeterias around the Commonwealth. Our future is stronger because of their passion and dedication.
A few weeks ago, we asked YOU to tell us about the school lunch heroes in your communities, and we heard back from parents, teachers, principals, supervisors, and superintendents. The nominations gave so much joy: they capture stories of program expansion, grace under pressure, taste tests, fun costumes, creative decorations, patience, kindness, courage, and cafeterias that feel like home.
We received nearly 60 nominations, and you can find the full list of nominees below. Please join us in giving your nearest school lunch hero a huge THANK YOU, hug, or high five for their role in ensuring that Virginia's students have the fuel they need to thrive, both in and out of the classroom.
From all of us at No Kid Hungry Virginia, HAPPY NATIONAL SCHOOL LUNCH HERO DAY!
Ahime Hernandez,

Patriot High School, Prince William County Public Schools

Ana Church,

Rockbridge School Nutrition Office, Rockbridge County Public Schools

Angel Trujillo,

Waynesboro High School, Waynesboro Public Schools

Angela Knight,

Northern Shores Elementary, Suffolk Public Schools

Anthony Leone,

Midlothian High School, Chesterfield County Public Schools

Asma Khan,

Lightridge High School, Loudoun County Public Schools

Belle Heth School Nutrition Team,

Radford City Public Schools

Bonnie Johnson,

Norfolk Public Schools Central Kitchen, Norfolk Public Schools

Bonnie Snyder,

Rockbridge County Public Schools

Brenda Kerr,

Rockbridge County High School, Rockbridge County Public Schools

Carolyn Belle,

Park View High School, Loudoun County Public Schools

Charles Curcio,

Mercer Middle School, Loudoun County Public Schools

Connie Owens,

Riverlawn Elementary School, Pulaski County Public Schools

Dawn Hetrick,

Natural Bridge Elementary School, Rockbridge County Public Schools

Dawn Pryor,

Waynesboro High School, Waynesboro Public Schools

Delores Rivera,

Rolling Ridge Elementary School, Loudoun County Public Schools

Elaine East,

Pulaski County Middle School, Pulaski County Public Schools

Ethelene W. Sadler,

Dublin Elementary School, Pulaski County Public Schools

Genelda Bartling,

Woodgrove High School, Loudoun County Public Schools

Gwen Campbell,

Central Elementary School, Rockbridge County Public Schools

Helen Ramey,

Liberty Elementary School, Loudoun County Public Schools

Kathleen Van Patten,

Mary Calcott Elementary School, Norfolk Public Schools

Kathy Meade,

John Champe High School, Loudoun County Public Schools

Katie Smith,

Mountain View Elementary School, Rockbridge County Public Schools

Kimberly Secrist,

Pulaski Elementary School, Pulaski County Public Schools

Laura Purdy,

Lyles-Crouch Traditional Academy, Alexandria City Public Schools

Lorana Jones,

Critzer Elementary School, Pulaski County Public Schools

Lucia Gallegos Martinez,

Freedom High School, Loudoun County Public Schools

Manider Kaur,

Lightridge High School, Loudoun County Public Schools

Marcia Parker,

Franklin High School, Franklin City Public Schools

Marina Rivera Hernandez,

Independence High School, Loudoun County Public Schools

Marlene Coffey,

Maury River Middle School, Rockbridge County Public Schools

Marta Wisniewska,

Mount Vernon Community School, Alexandria City Public Schools

Mary Margaret Speedy (Margie),

Campbell Court Elementary School, Henry County Public Schools

Matt Crossman,

Rockbridge County School Board Office, Rockbridge County Public Schools

Mavolyn Benns,

Norfolk SECEP, Norfolk Public Schools

Mirna Zalles,

Patrick Henry School, Alexandria City Public Schools

Mirtha Navarrete,

George Washington Middle School, Alexandria City Public Schools

Nancy James,

Harmony Middle School, Loudoun County Public Schools

Norman Jones,

Tanners Creek Elementary, Norfolk Public Schools

Olivia Fizer,

Snowville Elementary School, Pulaski County Public Schools

Prince Edward County Food Service Department,

Prince Edward County Public Schools

Radford High School School Nutrition Team,

Radford City Public Schools

Renee Jewell,

Washington Henry Elementary School, Hanover County Public Schools

Shadia Mustafa,

William Ramsay Elementary School, Alexandria City Public Schools

Sharon Ewald,

Sugarland Elementary School, Loudoun County Public Schools

Sheila Barksdale,

Clearview Early Learning Center, Martinsville City Public Schools

Sheila Stodder,

Pulaski County High School, Pulaski County Public Schools

Swee Cheang,

Arcola Elementary School, Loudoun County Public Schools

Sylvia King,

School Nutrition Center, Norfolk Public Schools

Thanh Howard,

Goshen Post Elementary School, Loudoun County Public Schools

Tina Cundiff,

Franklin County High School, Franklin County Public Schools

Virgie Jones,

Red Oak – Sturgeon Elementary School, Brunswick County Public Schools

Yanira Lopez,

Dominion High School, Loudoun County Public Schools

Yvonne Harrison,

Norfolk Public Schools Nutrition Center, Norfolk Public Schools