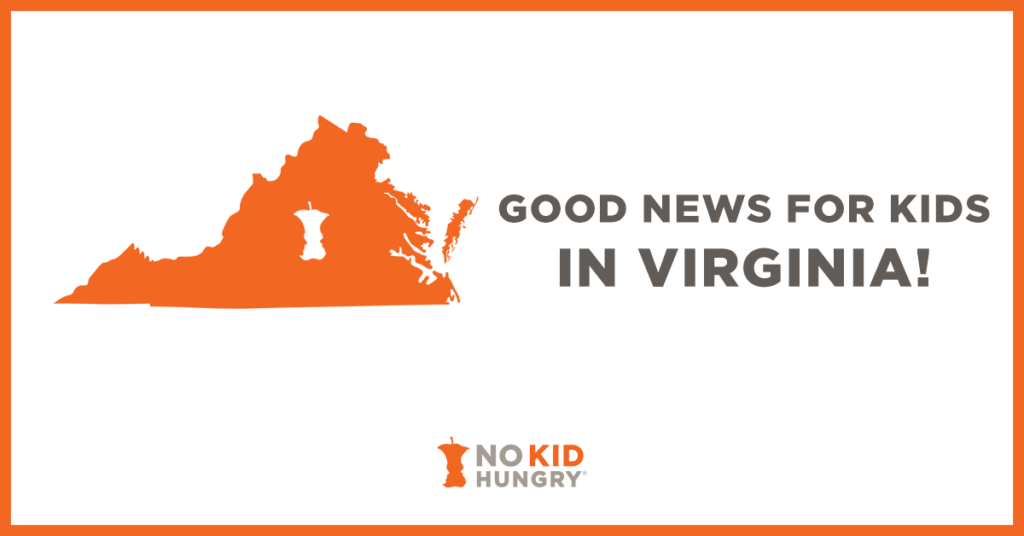 🚨 Virginia's new state budget will enable children who qualify for reduced- priced school meals to eat breakfast and lunch at no cost. 🚨
Gov. Glenn Youngkin signed the state's two-year budget this week, which includes $8.2 million in funding over the next two years to help local school divisions eliminate the cost of school breakfast and lunch for students who are eligible for reduced price meals under the federal National School Lunch Program and School Breakfast Program.
The funding will help approximately 64,500 more kids access free meals. No Kid Hungry Virginia Director Sarah Steely today issued the following statement:
"School meals are critical to supporting our children's academic success and well-being. We applaud Governor Youngkin and Virginia's lawmakers for supporting this important budget provision, which will help more students access school breakfast and lunch at no charge. The funding will also eliminate the administrative and financial burden on school nutrition teams to collect unpaid meal debt from reduced-price-eligible-students so staff can do what they do best: feed kids."
Food insecurity remains a pressing issue in the commonwealth. According to No Kid Hungry, one in eight children in Virginia may face hunger this year.
Research shows that hunger has long-term ramifications on children, including lower test scores, weaker attendance rates, and a higher risk of hospitalizations and chronic diseases. No Kid Hungry Virginia and its partners focus on school meal programs as a critical way to end childhood hunger in Virginia.
For more information, please contact Sarah Steely at ssteely@strength.org.
###
About No Kid Hungry
No child should go hungry in America. But in the wake of the coronavirus pandemic, millions of kids could face hunger this year. No Kid Hungry is working to end childhood hunger by helping launch and improve programs that give all kids the healthy food they need to thrive. This is a problem we know how to solve. No Kid Hungry is a campaign of Share Our Strength, an organization committed to ending hunger and poverty.