No Kid Hungry Texas is honored to continue to celebrate the contributions Hispanic hunger heroes have made in service of  nourishing their communities. This week, we're celebrating Esperanza Orosco, who is a Hays CISD school board member, Texas Association of School Board Consultant, and the director of the HaysHope2Go and Hays CISD Clothes Closet which works to alleviate hunger among Hays CISD students and families who are in need. 
Para leer el blog en español, haga clic aquí.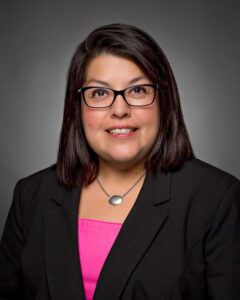 At a young age, Esperanza knew two things – she wanted to advocate for others and she wanted to be a bilingual teacher. However, like many others she lost her Spanish through cultural assimilation. For example, she often would get in trouble at school for speaking Spanish and while her name was Esperanza, her classmates and teachers called her Hope. 
In fact, it wasn't until her involvement with Movimiento Estudiantil Chicano de Aztlán, an organization that advocated for civil rights and immigration reform that she reclaimed her name and identity. As president of Movimiento Estudiantil Chicano de Aztlán, she and her college classmates protested, boycotted, staged sit-ins and even marched with the United Farm Workers. 
Esperanza became a bilingual teacher and tirelessly advocated for her students and their families while teaching them to advocate for themselves. Her classroom motto was "sí se puede" (yes we can). She often told each of her students that they have a voice regardless of their immigration status, legal status, and language barriers. 
Today, she works with the Texas Association of School Boards where she trains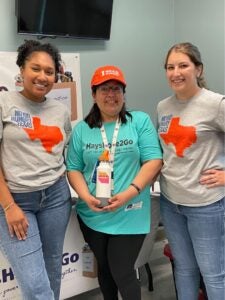 school board members across Texas, serves on various nonprofit boards, runs the HaysHope2Go and Hays CISD Clothes Closet, and volunteers. She encourages families who use the pantry to volunteer at the pantry which not only provides basic needs but also empowers these families.
What would you like people to understand about your identity?
"I don't think people really understand what being Chicana means and there are a lot of misconceptions. To me, Chicana means recognizing my Indigenous roots and my Spanish roots. For so long, people wanted to assimilate and claim that they were from Spain or Spanish. But, in reality, most Mexican Americans have some indigenous roots. I am proud of my Indigenous roots and all my mixture of cultures."
What role does food play in connecting your community?
"Food is a love language. It doesn't just sustain us, but it feeds your body and your soul. Our food program is run 100% by community donation and we do not take any food from the food bank. Everything we give out is provided by our amazing neighbors and community that we have."
What are the strengths of your community?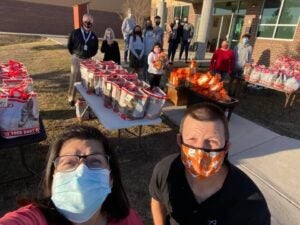 "It's so diverse. At the HaysHope2Go Pantry, we first only served a few campuses but now we serve so many families throughout the 221 square miles of Hays CISD. What is lovely is having families interact with each other when they come in to pick up food. It's getting to see that they're not alone in this and making some connections – even if it's just pleasantries – they know that poverty doesn't have just one face or one color. It can happen to anyone and anyone can be in that situation."
Who is your Hispanic hero and why?
"Dolores Huerta is one of my heroes…The United Farm Workers that I marched with are some of the smartest people I have ever met. They may not have finished their education or got a college degree but their heart, their passion and their humility is what resonates with me. Service above self is something that I have tried to emulate and show to my children and my students knowing that we can accomplish anything. I live by Sí Se Puede – that is my motto to this day. We can do anything. We might experience barriers but we can overcome.