It's been over a year since the pandemic hit, causing unprecedented hardship for far too many families. During that time, we've witnessed hunger heroes all over the country moving mountains to make sure kids in their communities get the food they need to thrive during COVID-19 and beyond. Now it's time to say thank you.
We at No Kid Hungry Virginia and all of our partners extend a very heartfelt THANK YOU to all of the school nutrition staff, community organizations, school transportation staff, and everyone who has helped to get meals to kids and students this year. This work would not happen without the commitment and dedication of every hunger hero in our state.
Help us celebrate these heroes for National School Lunch Day:
SHARE your gratitude on social media this week! Our toolkit has template language and graphics to help you honor those heroes in your community to help keep kids fed. You can also share or retweet our No Kid Hungry Virginia thank-you video here.
JOIN our Tweetstorm! On May 7th from 3-5 PM, we hope you'll join @NoKidHungryVa and @NoKidHungry on Twitter for a National School Lunch Hero Day Twitterstorm, using #ThankAHungerHero to show your appreciation for the amazing folks in your community working to ensure kids get the nutrition they need every day.
WRITE your own note of thanks through our digital thank-you board! Show your pride for Virginia Hunger Heroes by celebrating all they've done for families this past year.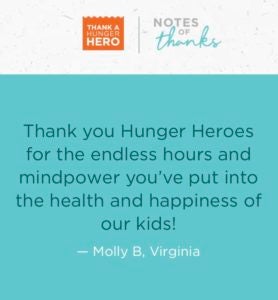 And remember: gratitude doesn't have a deadline! You can use these resources all month long to thank the school cafeteria workers and community organizations that ensure all kids get the nutrition they deserve.
###
About No Kid Hungry
No child should go hungry in America. But millions don't know where their next meal is coming from. No Kid Hungry is ending childhood hunger by helping launch and improve programs that give all kids the healthy food they need to thrive. This is a problem we know how to solve. No Kid Hungry is a campaign by Share Our Strength, an organization working to end hunger and poverty.