Principals across the nation work every day with one thing on their minds: the success of their students. They understand ensuring kids have three meals a day is essential for their development. For this reason, principals have always been a critical part of ending childhood hunger in America.
Today, principals face an extraordinary set of challenges with staff shortages, burnout and the task of keeping staff and kids safe in school as the pandemic continues. 
This Principal Appreciation Month, we're highlighting three school leaders in Southern California who, in the face of these immense obstacles, continue to work hand in hand with school nutrition professionals and No Kid Hungry to ensure kids have the food they need.
Principal Elizabeth Cochrane-Benoit
Captain Leland F. Norton Elementary School
San Bernardino City Unified School District (SBCUSD)
Principal Elizabeth Cochrane-Benoit understands the importance of school meals and their impact on a child's life and education.
"As a school located in one of the poorest zip codes in the State of California," she shared. "It is important for every student at Captain Leland F. Norton Elementary to have the opportunity to eat." During these difficult and ever changing times, Principal Cochrane-Benoit started the school year by implementing breakfast and lunch service in the classroom.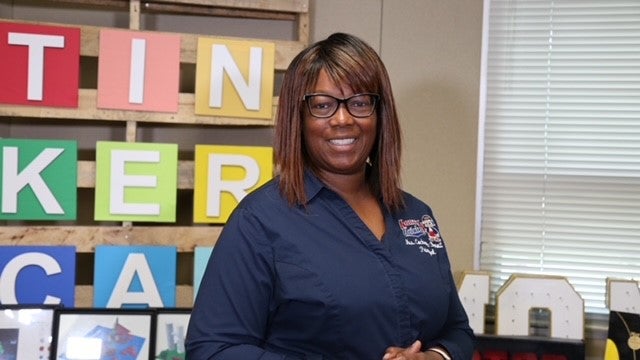 "We discovered through serving breakfast in the classroom, all students are able to start the day with a healthy meal that nourishes their bodies and enables them to focus on learning," she explained. Principal Cochrane-Benoit collaborated with SBCUSD's nutrition services, teachers, and custodial staff to ensure students were getting the nutrition they needed to focus and learn while sustaining a safe, sanitary and COVID-ready facility.
"It was a village to make this work," she said. "Every child should have the opportunity to nourish their bodies for learning." Since starting breakfast in the classroom, they no longer have students coming into the health office with stomach aches or informing their teachers that they are hungry because they did not have breakfast. 
Principal Kimberly Lium
Beattie Middle School
Redlands Unified School District (RUSD)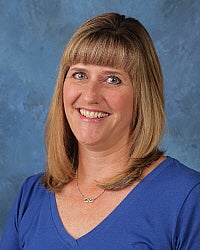 This is Kimberly Lium's first year as principal of Beattie Middle School. With more than 20 years working in Redlands Schools, Principal Lium has been committed to being of service to her students and community. 
Collaborating with her district's child nutrition services, teachers, and custodial staff, Principal Lium helped launch the inaugural Second Chance Breakfast program at Beattie Middle School. Students now have a second opportunity to pick up breakfast if they missed it in the morning. She also supported her nutrition service staff in creating a safe and sanitary meal delivery system that included lunch carts offering cold and hot meals in different locations throughout the school.
Dr. Betty Crocker, RUSD's Child Nutrition Services Director and No Kid Hungry's 2018 Summer Meals Hero, recognized Principal Lium's work supporting her students.
"Ms. Lium's actions speak louder than her words," she shared. "Her dedicated leadership has led to program and service innovation, resulting in expanding meal access to all students. Her vision and understanding that student's development is positively impacted by keeping them safe from hunger each and every day." 
Principal Michele Mower
Beech Avenue Elementary School, Fontana Unified School District (FUSD)
Principal Michele Mower exemplifies a dedicated school leader in service of her community. When schools first closed back in March 2020 and until students fully returned to school in August 2021, Principal Mower was out on the frontlines with Fontana Unified School District's nutrition services staff distributing meals and resources. 
"Beech Elementary School served about 2,000 children each week during the COVID-19 pandemic, each child receiving 28 meals per week. The lines were very long and many families would arrive hours before service started, Ms. Mower was out there with us every day, as part of our team, ensuring her families had access to food," shared Trieste Huey, FUSD's Food Services Director. 
Standing out in the heat, rain, and wind, Principal Mower would greet every car that came through, knowing families by name and checking in with her community. She also partnered with nutrition services to personally deliver meals to families that didn't have transportation and couldn't make it to a curbside meal service.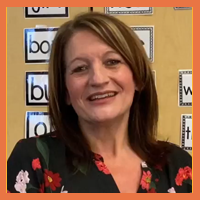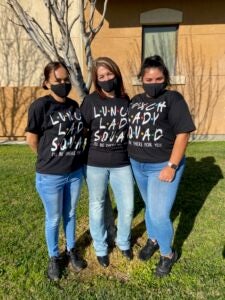 This month is a recognition of those leaders who are behind the scenes, making decisions to ensure all staff are safe, school meals are out the door and kids have the food they need in times of crisis and not.
As 1 in 6 kids in California could be living with hunger, we thank school principals who understand the importance of school meals. 
Join us to support leaders like Principals Cochrane-Benoit, Lium and Mower, who are helping kids get the meals they need to be their best.